Developer
Trinea
Released on
Aug 6, 2017
Updated
Jul 14, 2023
Size
6M
Version
7.0.1-gp
Requirements
4.4
Downloads
5,000+
Get it on
Description
Android Dev Tools Pro is a powerful, productive, automated, essential Android Development Assistant, It can improve your development productivity.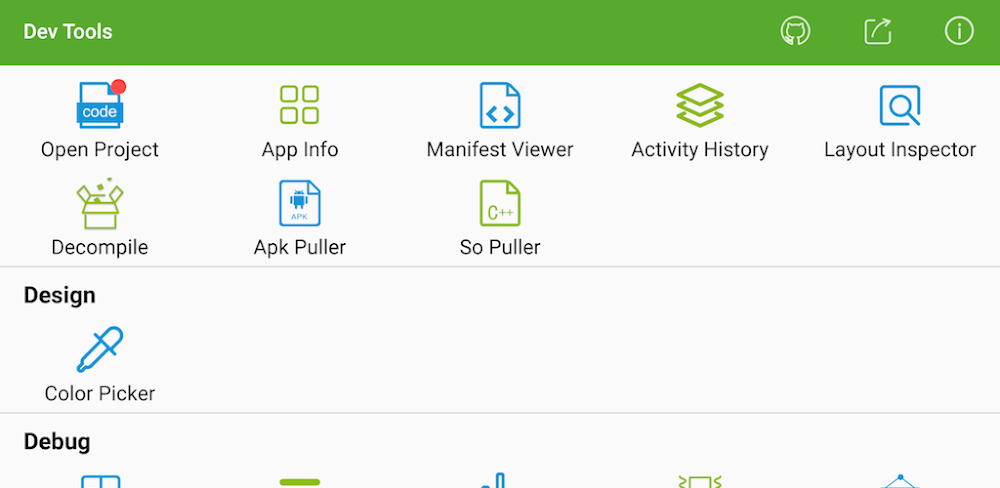 It can be used to decompile another app, view layout detail info of another app, view the color of the screen(color sampler or eyedropper), view the latest open source projects, view activity history, view manifest of any apps, view recently used or installed apps, extract apk or so, debug applications, view phone hardware and software-related information and so on, the more features will be added later.
Introduction
Dev Tools has proven to be a must-have tool for Android programmers as it simplifies operations and reduces the time spent developing new features. Decompile other applications, view layout details of other applications, view screen colors (using color picker or eyedropper), view the latest open source projects, view activity history, and view manifest for each application possible. , view recently used or installed applications, extract APK files or similar files, debug applications, and view information about your phone's hardware and software.
New open-source projects are announced every day at the trade show. Carefully selected and widely used Android open-source projects. Here you can manage apps and get details. App monitoring is straightforward. You can explore all applications currently loaded on your device in a grid format, not just recently installed or frequently used applications. Examine details such as package name, version, UID, apk directory, so directory, data directory, first and last install time, and component metadata.
Provides quick access to the Developer Options menu, which you can tweak to your needs. What used to take seconds can now be done with a click of the mouse. Screen layout display, GPU overdraw debugging, layout update, force GPU rendering, GPU view update, GPU rendering, pointer location display, strict mode, don't keep activity, stay awake, run service, etc. available. You can easily check the OS version, hardware specs, display specs, CPU specs, virtual machine specs, network settings, device IDs, and more. Common options include a system UI tuner, the ability to change language, developer settings, and a My Programs section.
Dev Tools Pro Features
► Decompile another app
View the app's java file, resource, and other files easily, support sharing files
► App Layout Inspector Tool
View or export layout or view info of another app can show view id, width height, parent and child view, and coordinate of view.
► View screen color
Similar to the color sampler tool or eyedropper, you can view or copy the color and coordinate of any other App easily, and more ARGB and CMYK
► View the latest open-source projects daily
A well-selected daily Android open source project.
► View activity history
View the appName, packageName, title, icon, and the start time of the activity opened, also include the current activity and top activity. support opens in small window mode.
► View the manifest of any apps
View the manifest of any app, search any content of the manifest, and save the manifest to a sdcard in text or HTML.
► App Management—View info on apps
You can manage your app easily. View apps installed, recently used apps, and recently installed apps in grid mode.
View app package name, version, uid, apk dir, so dir, data dir, first install and last upgrade time, component info, and so on.
► Extract apk or so of apps
Extract any app's source apk or so file.
► Open or close the options in the developer options quickly
What used to take seconds is reduced to one click! it includes show screen layout, debugging GPU overdraw, show layout updates, forced GPU rendering, show GPU view updates, show GPU Rendering, show pointer position, strict mode, don't keep activities, staying awake, and Running Service.
Note: This part of the function is to solve the cumbersome operation of the developer option through the automated way, if you are tired of the cumbersome operation of the developer option also, then this tool is for you. If you need a tool different from the system developer option, this is not what you want, don't install it, thanks.
► View the system info quickly
includes system version information, hardware information, screen information, CPU information, virtual machine information, network-related information, Device ID information.
► Open other common features quickly
including settings, System UI Tuner, language switching, developer options, and my applications.
Shortcuts:
(1) You can add tool shortcuts to the desktop by long-pressing the tool icon;
(2) You can add tool widgets to the desktop;
(3) You can start the tool through the shortcut quickly on Android 7.1, long-pressing the application icon on the desktop;
(4) You can add the tool to the notification bar by Quick Settings Tile on Android 7.0.
By these shortcuts. You even don't need to open the app.
It is available for Android 4.0 and above, including Android Q, Android Pie, Android Oreo, Android Nougat, Android Marshmallow, Android Lollipop MR1, Android Lollipop, Android KitKat, Android Jelly Bean MR2, Android Jelly Bean MR1, Android Jelly Bean, Android Ice Cream Sandwich MR1, Android Ice Cream Sandwich.
What's new
1. Fix the crash bug when startup and other core features
2. Optimize the performance of some features
Images