Developer
Dodreams Ltd.
Updated
Aug 1, 2023
Size
300M
Version
4.1.1
Requirements
5.1
Downloads
100,000,000+
Get it on
Mod Info
free craft cars (in the upper right corner in the store, click the "Craft" button)
after the battle we spin the drum with awards without adsAvailable options for control from the menu

god mode

high damage
Description
Drive Ahead MOD APK Watch your head in gladiator car fights! In this game, you knock your friend in the head with stunt-driving cars to score. We guarantee crazy casual and ranked multiplayer motorsports fun with friends.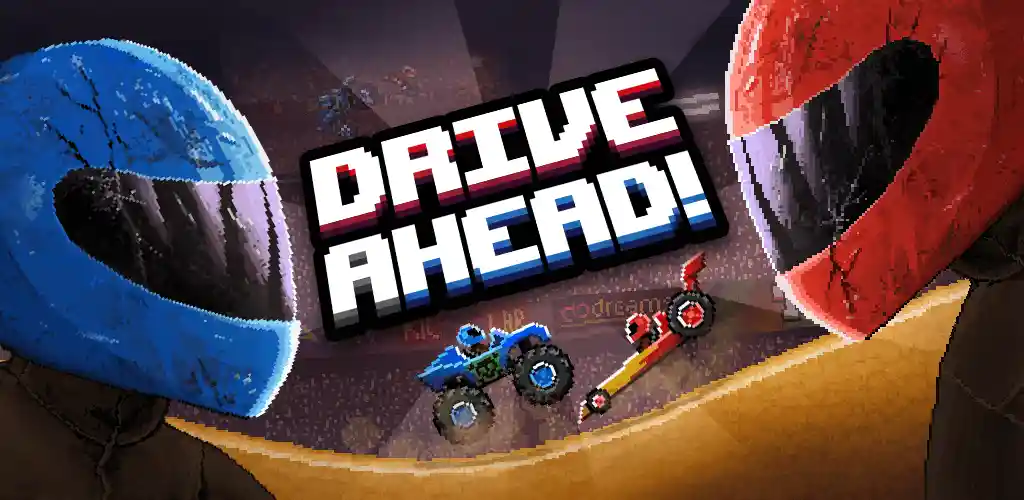 Collect over 300 stylized racing cars and push the pedal to the metal to master increasingly dangerous battle arenas. We got off-road vehicles, monster trucks, tanks, motorcycle stunt cars, and more. Some of the rides are quite out of this world, like the ghost pirate ship, electric reindeer, or Mini-T-Rex with an actual gun… Buckle up and build your car battle team any way you like. Team up with friends in crews. Level up and power up to face other teams and horrific Bosses.
Feel the adrenaline, grab the wheel and become a Master Car Gladiator! This may be a casual game, but it has tons of content to unlock and game modes to master.
– The Battle Arena is the place where racing champions are made! Clash with friends in quick-fire 2-player fights
– Team up with guild mates in crews. Crush other teams on the leaderboards and lead your crew to victory in co-op racing challenges.
– Pick a ride to take a road trip to face adventure and crash into adversaries. Perfect your skills controlling these cartoony pixel art cars.
– Share your high scores and most hilarious moments with our active video community. Get your clip featured in our social tab and become a famous drift racer.
– Check out daily stunts, there are new quests to complete every day.
– Face new universes in Rift Riders Boss fights every week and race for glory.
– How long can you reign in King of the Hill against an endless flow of opponents before you go kaboom?
– Explore exotic stylized Mission Stadiums for amazing rewards and non-stop action, while avoiding hazards like robots, aliens, and penguins. Seriously, the penguins are the most dangerous.
Hundreds of pixel cars, helmets, levels, missions, and game modes bring endless hours of helmet-crashing two-player racing action with freak accidents!
Just be careful not to wreck yourself!
What's new
UPDATE 4.1
Friendzone, Online Multiplayer is here and getting new features!
- Express yourself with fun new Emotes and laugh together during funny moments or celebrate epic victories.
- Battle it out in revamped summer themed arenas with crazy online matches up to 8 players!
- There's always a reason to play with an ever-changing selection of multiplayer vehicles each month.
Advance your career in our 29th Season!
Images