IMAIOS e-Anatomy is an atlas of human anatomy for physicians, radiologists, medical students and radiographers. Try before you buy: visualize more than 8,500 medical and anatomical images for free before subscribing and gaining access to our medical labels.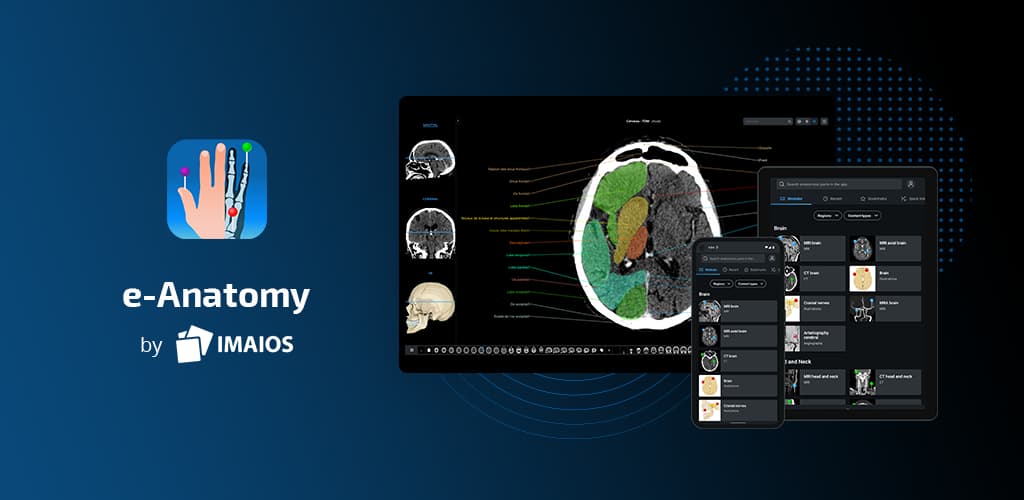 e-Anatomy is based on award-winning IMAIOS' e-Anatomy online atlas. e-Anatomy allows you to carry around the most complete reference for human anatomy on your mobile device.
(More information and demo available on http://www.imaios.com/)
e-Anatomy has over 375,000 anatomic structures and more than 5,400 translated medical labels. Our modules cover five image modalities: CT, MRI, Radiographs, Anatomic Diagrams and Nuclear images. Some example module titles are: Petrous bone CT, Face CT, Spinal Cord Diagrams, CT lymph nodes for oncology, Coronary CT and Diagrams, Pelvis MRI and more!
Features:
– Scroll through images with the flick of a finger
– Pinch to zoom in and out
– Tap to display anatomy labels
– Toggle anatomy labels on and off by categories
– Locate any structure identified in a module using the search index
– Auto screen rotation
– Change languages in the app
PRICE of application with all modules enabled is $89.99 per year (through IMAIOS online subscription).
SIZE of application is 400 Mb and WIFI connection is required to download images when installing the application.
The medical information in this application is provided as a tool and reference for use by licensed medical professionals, competent healthcare professionals and no others, and it does not and should not be construed as any form of medical diagnosis or professional medical advice on any matter.
About module activation.
IMAIOS e-Anatomy has three methods of activation for our different users.
1) Existing imaios.com users can use their regular online account login details for full access to all modules. However an internet connection is needed periodically to verify your account.
2) Users who have purchased modules in previous versions of IMAIOS e-Anatomy can use the "Restore" feature to activate all previously purchased content. You will not be charged again and content is available offline forever.
3) New users are invited to subscribe to IMAIOS e-Anatomy. Your subscription will be automatically renewed so you can continue using IMAIOS e-Anatomy.
Additional Auto-renewable Subscription Information:
– Auto-renewal may be turned off by going to the user's account settings after purchase.
– Subscription automatically renews unless auto-renew is turned off at least 24-hours before the end of the current period.
– No cancellation of the current subscription is allowed during active subscription period.
Screenshots are taken from the full e-Anatomy application with all modules enabled.