Epic Unlimited Books for Kids is the leading digital reading platform for kids 12 and under, offering access to over 40,000 high-quality books for kids, learning videos, reading quizzes, and more. It's an interactive reading library your child can take anywhere!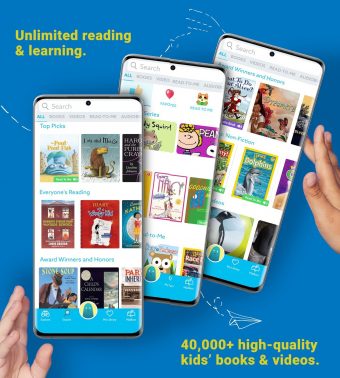 With thousands of children's books and videos, including kids' audiobooks, ebooks, and read-along with books, Epic brings unlimited reading and learning to millions of children at home and in school. Epic is a virtual learning resource for kids of all reading levels and Epic's educational reading library can be used both in the classroom or for at-home learning.
With Epic, kids can explore their interests in a fun, safe, kid-friendly environment with no ads or in-app purchases.
Epic offers ebooks and educational videos for kindergarten, as well as 1st grade, 2nd grade, 3rd grade, 4th grade, 5th grade, 6th grade, and 7th-grade reading levels. With Epic, you can track your child's reading progress, see what books your kid likes, monitor their time spent reading, and more.
The Epic library contains a wide variety of book types:
* Picture books
* Chapter books
* Comic books
* Books for early readers
* Storybooks & children's bedtime stories
* Educational books
* Audio-enabled read-to-me books
* Non-fiction titles
* Audiobooks
* Graphic novels
* Spanish, Chinese and French books
* …and many more