Faded Icon Pack is not a standalone app! You need a compatible launcher (read below) to use this app! If your launcher is not mentioned in this description don't even think to purchase it! I strongly recommend using Nova or Apex to apply this Icon Pack!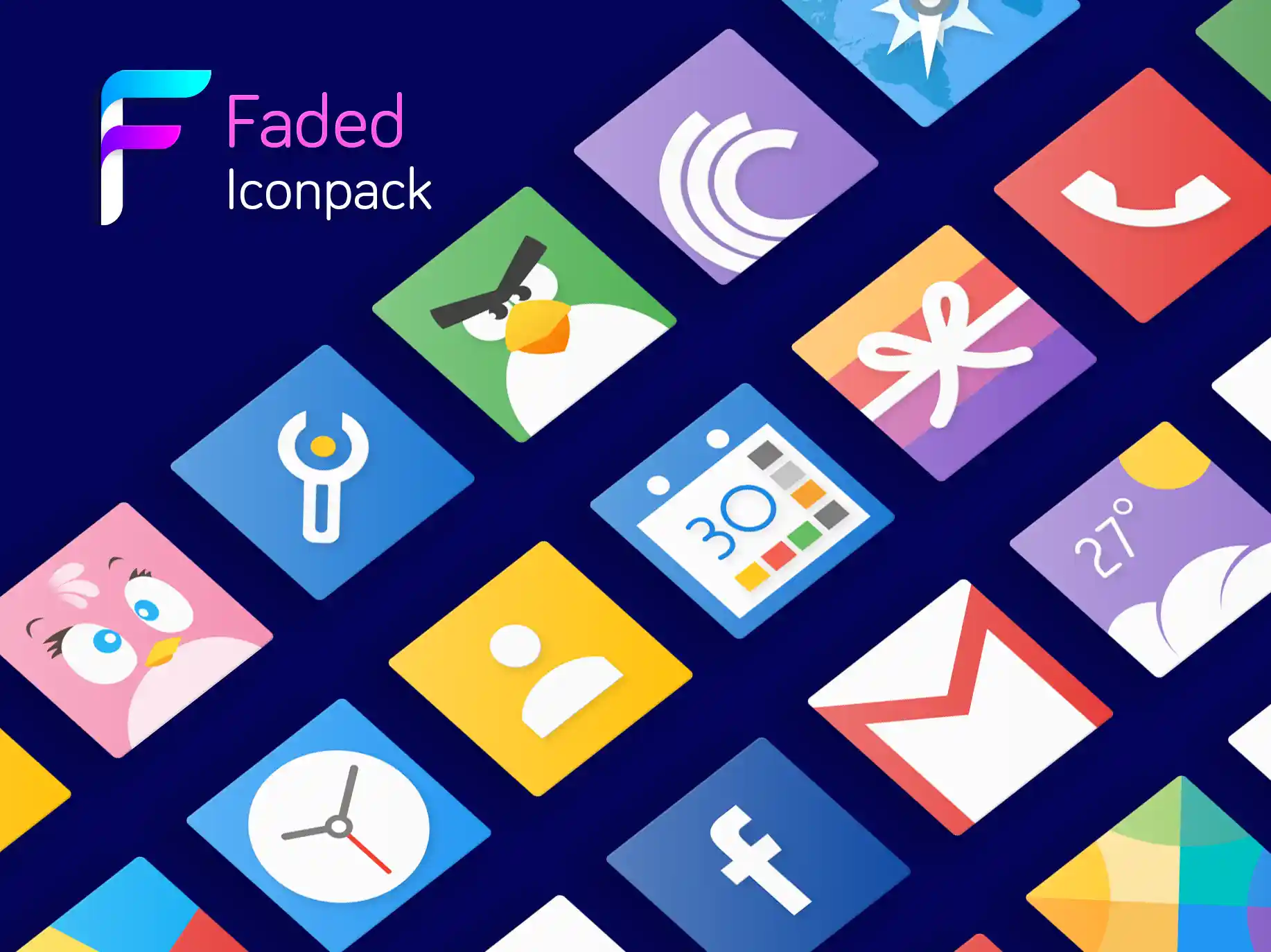 Features:
-Material Design dashboard app
-Dynamic calendar icons (Google, Today, Touch, Sunrise, Biz, Business Calendar, DigiCal Calendar,aCalendar pre-installed calendar, and many more)
-HD resolution of the icons
-1238+ handcrafted icons
-See & Search all icons
-9 Cloud wallpapers
– Alternative icons
-Support for many launchers
-Muzei Live Wallpaper support
-The help section, contains FAQs with search function
-Show/Hide launcher icon from the app drawer
-Request Tool
-Regular Updates
RULES ABOUT ICON REQUESTS
FOR FREE ICON REQUESTS:
-You can request 10 icons for free ( I will decide which icons will cover, usually I cover only popular apps, games that have a lot of downloads )
Apps-More than 10M downloads
Games- More than 100M download
Paid apps – more than 100K downloads
FOR PREMIUM ICON REQUESTS:
-You can request 5,10,20,30,40,50 icons. Decide how many icons you want to request, then mark them and send your request. I will cover all icons from your Premium Icon Request without exceptions. Premium Icon Requests are a High priority!
Supported Launchers:
-Samsung Launcher- can be used through the Samsung Theme Park(requires Android 12!)
-Action launcher: Pixel Edition
-Hyperion Launcher
-Lawnchair Launcher
-Niagara launcher
-Total Launcher
-Yandex Launcher
-Microsoft Launcher
-Nova Launcher
-Apex Launcher
-Action Launcher
-ADW Launcher
-ADW2 Launcher
-Aviate Launcher
-Holo Launcher
-Holo HD Launcher
-KK Launcher
-CM Theme Engine
-Lucid Launcher
-Smart Launcher
-Solo Launcher-Manual Apply from Dashboard!
-TSF Launcher
-Next Launcher
-Evie Launcher
-M Launcher
Support email:
[email protected]
Contributors:
Freepik