Developer
FlameFront Studios
Updated
Oct 21, 2023
Size
5.1M
Version
6.0.1
Requirements
5.1
Downloads
10,000+
Get it on
Description
ForzaTune Pro Apk – You want to drive faster in Forza Motorsport 7. And you want a tuning process that is fast too. Sure, you can download locked tunes. But who wants to be stuck using someone else's tune?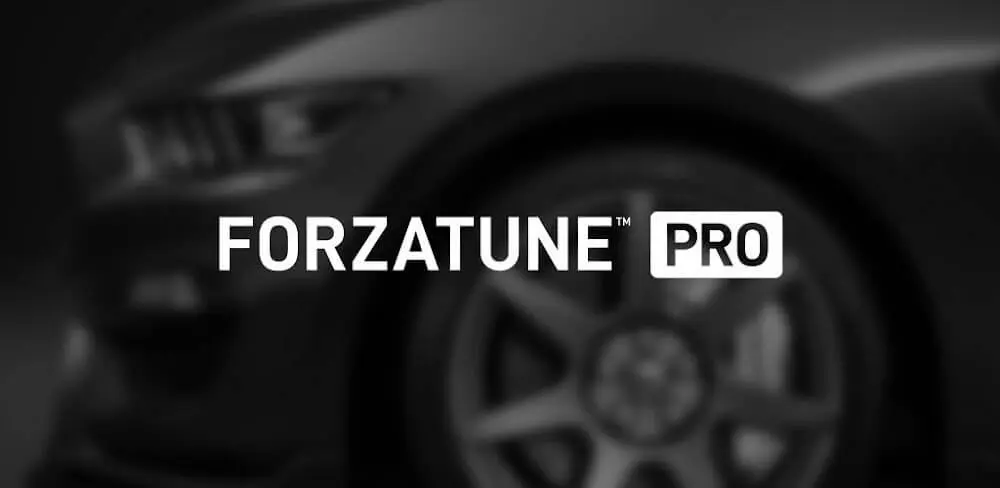 Anyone can make their tunes in Forza. It comes down to doing the right math, taking a test drive, and knowing when to make a few adjustments. Nothing magic. ForzaTune Pro does the math for you and makes it easy to adjust the car to your driving style and skill.
Tell ForzaTune you're driving a GT350 on Laguna Seca or the street, and it creates a tune to match.
If you prefer a more aggressive or more stable feel, then open up the tune customizer to set oversteer or understeer in each part of a turn. ForzaTune works out the new values for you automatically.
There's nothing better than driving a car dialed in how you want it. And a car that feels planted lets you drive faster.
ForzaTune has always been about "making better tunes faster." With this Pro version you get all of the features you need to quickly tailor your setup to a specific build, track and tune type – plus it includes gearing options, the ability to save tunes, and finer control over your tune customizations.
Here are the complete specs if you'd like to learn what makes ForzaTune Pro the most popular Forza tuning app:
DESIGNED FOR
Forza Horizon 4, Forza Motorsport 7 with support for earlier games as well.
TUNING MODES
Standard (street/track), drift, drag, rain, rally/snow, and off-road
TUNE CUSTOMIZATION
Overall balance, turn entry balance, turn exit balance, ride stiffness, roll stiffness.
GEARING SUPPORT
Includes a gearing calculator option that lets you match race transmission values to engine swaps, and major power upgrades.
UNIT OPTIONS
Metric, Imperial, and various combinations of the two.
CAR LIST
1000+ vehicles covering Forza Horizon 4 and Forza Motorsport 7. You can use this app for previous Forza titles that include the same cars.
TUNE CREATION
ForzaTune Pro combines your input with its vehicle and tracking databases to create original, realistic tunes. Formulas are based on real race engineering. They work well with a controller, steering wheel, and pedal set.
DATA
Save, edit, search, and backup all of your tunes. Export and import options let you transfer your tunes to other devices.
SHARING
Share your tunes using a code so friends can quickly load your tunes into their app. No login or accounts are required.
Q: Is this for beginners or experienced tuners?
A: Both. Experienced tuners use it to save time. Newer tuners use it to learn how to tune.
Q: Why is tuning your cars important?
A: When doing upgrades many of the default tune settings will not match the new build. ForzaTune brings it back to a balanced setup. Also, tuning doesn't affect your PI or race restrictions—so this is how you can gain an advantage over other racers.
Q: How do I use the app?
A: Copy several car details from the game into ForzaTune, hit "Next" and copy the results into the tuning menu in Forza 7 or Horizon 4. There is also a series of video tutorials on YouTube to get you started.
Q: When should I use the gearing option?
A: Select the gearing tune option if you add a turbo, supercharger, cams or perform an engine swap.
Q: What settings and upgrades do I need?
A: You will need racing upgrades like suspension, braking, anti-roll bars, and differential to change the values in the tuning menu. You can also use drift, rally and adjustable stock suspensions when available (like off-road buggies and some trucks in FH4). You will also have the best results if you disable stability management (STM) and traction control (TCS) for lower-class cars. Normal or simulation steering is fine.
Download ForzaTune Pro now to make better tunes faster.
What's new
Tuning in Forza Motorsport 2023 keeps getting better with ForzaTune. This update comes hot on the heels of our initial Motorsport changes. You'll notice more responsive handling, and over 40 extra track options. And we didn't forget Horizon 5 fans – Series 26 and the Super Speed Car Pack are now included! With a whirlwind of updates, your feedback is important. Head to the support page with any suggestions or issues. Now, buckle up and enjoy the drive!
Images