Developer
Joynow Studio
Released on
Dec 29, 2022
Updated
Dec 5, 2023
Size
580M
Version
69.7
Requirements
5.1
Downloads
100,000+
Get it on
Description
Grand War 2: Strategy Games is a thrilling game that allows you to conquer turbulent Europe and win all the historic wars of the continent. As one of the great generals of history, you will build your own empire, command your army, and battle with enemies in Europe. This game provides an opportunity to create winning strategies and tactics, mobilize your army, and make immortal achievements. With its brand new game engine, cloud archive function, and enhanced audio-visual effects, Grand War 2: Strategy Games is one of the best games available in the market today. In this article, we will highlight some of the best features of this game.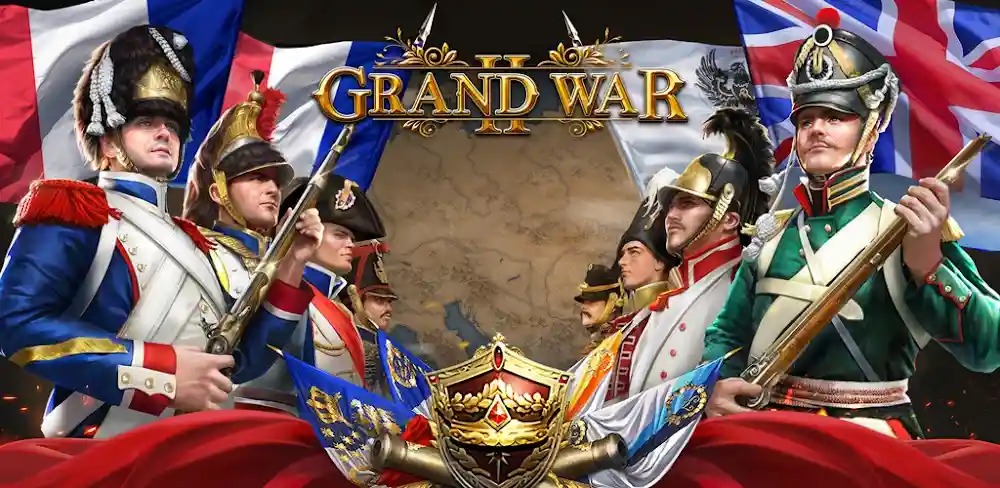 The world is about to change! Build your own empire and command army, and battle as one of the great general from the history of the world.
It is time for you to create winning strategy and tactics, mobilize army and make immortal achievements!
NEW STRATEGY GAMES:
Cloud archive function allows users to change the device without losing their data.
Enhanced audio-visual effects with the brand new game engine.
40 portraits of generals are redrawn and introductions are added.
HISTORY AND STRATEGY GAMES
• Appreciate the changes of the times through hundreds of war. Witness the heroic deeds and historical incidents among European countries across various war!
• 10 chapters, over 60 famous campaigns, 100 countries and army. Fascinating stories based on historical war, including Bataille de Marengo, Battle of Waterloo, Battle of Trafalgar, Battle of Leipzig, bring you back to the napoleon european war.
• The occurrence of historical events will affect the battlefield situation, and complete the mission to obtain war rewards and glory.
BRAND NEW WAR AND STRATEGY GAMES
• Strategy games with fun battle goals based on actual war from history.
• Hone your strategy in over a hundred war missions, set in diverse european war.
• Unleash the full force of your army with a unique war strategy to outwit your opponents in all the famous European war.
• Control the battlefield, use different terrain. Plan out your strategy and in engage in epic battles on 3d maps. Battlefield has different terrains such as plains, hills, mountains, and rivers. Each terrain has different bonuses for different army and generals. Choose your marching route carefully and lure your enemies to fight on the terrain in your favor! Make it possible to win more with less!
Win the victory within the specified conditions, which will test your commanding strategy.
Hundreds of generals and distinctive armed forces are at your disposal.
• War alongside History's Greatest generals and leaders like Napolen, André Masséna, Maria Theresia, Blücher, Friedrich II, Kutuzov, Nelson and other generals.
• Choose your generals and promote their ranks and titles. Every general can come up from ranks, from a common soldier to a marshal, from a citizen to an emperor.
• Train the special units. More than 15 countries boast over 100 basic military forces, including more than 30 legendary units like Cuirassiers, Polish Lancers, 20-pound Unicorn Cannons, old guards, highlanders…
• Every troop has its own distinguishing features and if you can master them efficiently, you will be invincible. Every troop can gain battle experience and when they become elite forces, their battle effectiveness will be greatly improved.
• High morale troops are unstoppable! You need to use strategy in battle, surround your enemies and demoralize them! Let the cowards of the enemy not dare to fight back!
We will continue to update this strategy games:
More campaigns!
More generals!
More modes!
Download now to start war!
What's new
[New Level] Level 8-3 has been unlocked.
[New Gift Pack] The Beginner Gift Pack Garde des consuls has been added.
[Others] Fixed a bug that points could not be obtained in event levels.
Images