Boost and Optimize your android device to achieve the best performance with GreenShark Game turbo. Enjoy a better gaming experience with the newest game booster app GreenShark Game Turbo MOD APK.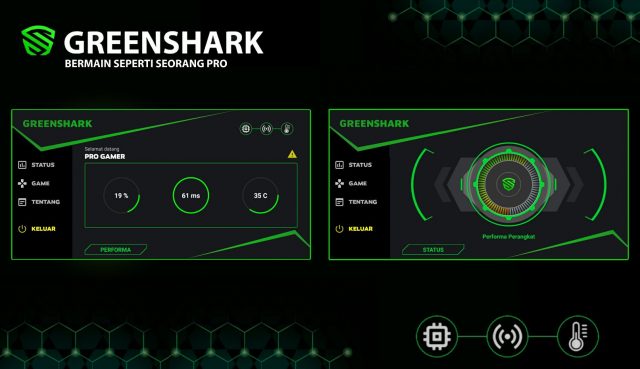 Some of the features in GreenShark Game Turbo MOD APK :
## STATUS
RAM
Displays the available RAM to run the game, and detect app that makes your device slow down.
Connectivity
Displays the ping (connection latency) your current connection, or locks your network, which is useful for online gaming.
Device temperature
Displays the current temperature of your android device (battery interface).
Memory storage
Monitor your device storage.
## PERFORMANCE
Greenshark is equipped with an algorithm to measure/calculate the current performance of your Android device.
## GAME SPACE
Add your favorite game into the futuristic game space.
## FPS MEASUREMENT – experimental
Green Shark is equipped with a feature to measure game FPS, you can activate it in the settings.
## RGB EFFECTS
You can activate the RGB effect feature so that you look more gamer.
Add Favorite Game
Add your favorite game to GreenShark Game Turbo to optimize its performance to the best performance that your android can achieve
Download Greenshark now, and enjoy the best gaming experience with GreenShark.
***Note
Greenshark does not directly speed up your device, it depends on the specifications of your device, but Greenshark will measure and lead your device to better performance for gaming.