Habitify is a free Android habit tracker app that helps you build new habits and maintain the perfect daily routines. With a minimal and intuitive design, Habitify will make monitoring your life becomes completely effortless. Due to the simple and todo-style design, Habitify is not only a personal habit tracker, but it can also serve as your to-do list for recurring tasks, your daily routine planner, or your performance report.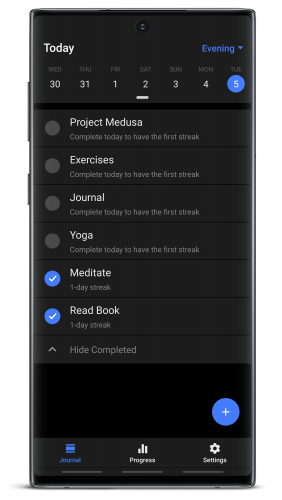 1. Stay focused on your daily routine
Habitify groups of your habits by times of the day: morning, afternoon, and evening. You can customize the time for each time of the day to suit your daily routine better.
2. Strive for your Goals
Habitify Android enables you to set and pursue goals in your habits. Whether it is multiple completion in a day or time-based, weekly goals.
3. Harness the Power of Data
Habitify Android helps you measure progress with insightful charts and numbers. We act as your accountable buddy that shows how well you're keeping up with your daily routine.
4. Syncing with your Favorite Health App
Habitify Android now works with Samsung Health and Google Fit, taking your health habits to the next level with detailed data and automatic check-ins.
5. Build good habits anywhere, any time
No matter where you go, Habitify goes with you. It is available on your Android phones and tablets, and also on all Apple devices (iPhone, iPad, Apple Watch, Mac).
6. Never Forget a Habit Again
Habitify Android will act as a habit reminder to drink water, exercise, meditate, or wake up early. Have a list of the daily routine of successful people that you want to follow? This android habit tracker app can remind you to do it at the right time!
Habitify Premium version features
✓ Track Unlimited habits
✓ Unlimited reminders
✓ Data export
✓ Dark Mode
✓ Privacy lock
✓ First-in-line support
✓ Habit notes
✓ Skip your habits
✓ Archive habits
✓ Yearly Calendar
✓ Dark Mode
With the Premium version, your habit-forming process will be less challenging. Habitify Premium is both a true goal tracker as it can remind you multiple times per day to finish your goal.