Hazmob FPS: Gun Shooting Games Fight critical battles & strike enemies in this modern online FPS arena shooter. If you like Online Shooters, Multiplayer PVP, Single Player FPS, and being snipers, This Multiplayer Shooting game is for you.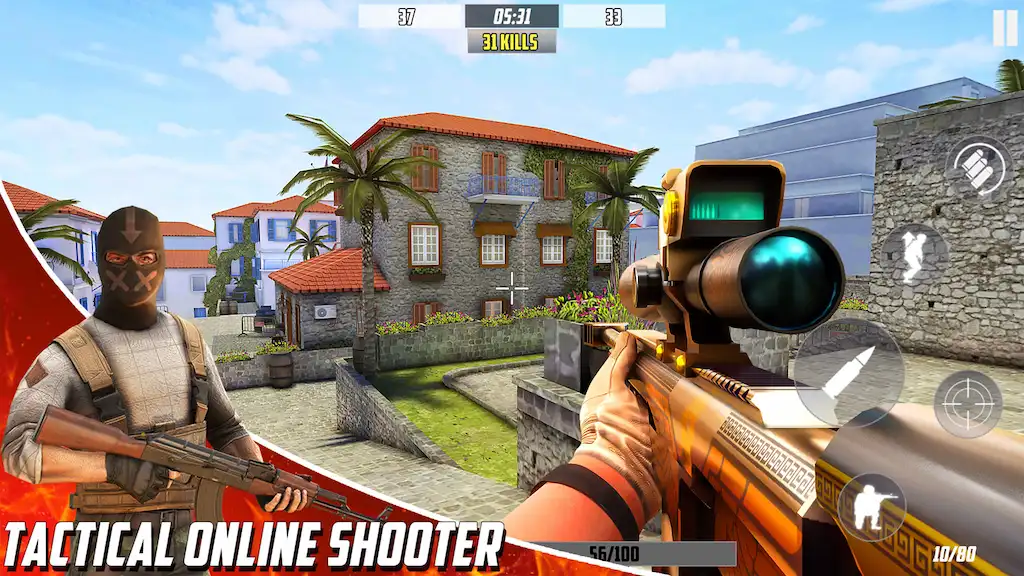 Introduction
Are you a fan of the extreme counter-terrorist battles? Here is a good FPS multiplayer shooter game for you. We are ready to change everything about free online pvp Android multiplayer shooters ( FPS -First Person Shooter ). Perfect strike graphics and high-quality optimization for every FPS lover. Take the part on the battlefield of Hazmob FPS: PvP War-Online gun shooting games!
Annihilate the completion in real-time PVP, face off against your opponents in blast mode, or check out our terrifying single-player mode! Hazmob FPS: PvP War-Online gun shooting games are coming at you with a brand new version and lots of new additions to keep the action going at a blazing pace! With new maps, awesome weapons, and a new elite competition system; Hazmob FPS: FPS PvP War-Online gun shooting games – Multiplayer will blow you away!
Features
Intense, immersive real-time FPS action
– Awesome tactical movement system with console-like shooting experience
– Different real-world guns to choose from
Addictive multiplayer gameplay
– Work together with friends to annihilate your enemies in Team Mode
– Experience the terror of fighting off teammates once they've become the living dead
– Leap over the heads of your adversaries in space mode.
Varied and realistic scenarios
– Fair matches with no upgrading systems available for guns
– Sniper style
– Be MVP
Game Features
100% Action FPS Maps
8 maps to get the Best FPS Shooting Experience Ever.
Ranked Game Mode to get rank and get more coins.
Custom Game Mode to create your own game with its rules for your friends
Single Player mode to play offline against monsters
Good Maps for Snipers
Login to Get Daily Free Gifts
Login to Get Daily Free Gifts, Login to get Free Daily Quests!
Login to get daily free items. Don't also miss the bonus EXP and Credits time!
20+ Weapons, Customize Your Exclusive Weapons and Skins!
21 types of weapons: Glock 18, USP tactical, P228, Desert Eagle.50 AE, FN Five-seveN, Dual 96G Elite Berettas, MAC10, TMP, MP5 navy, UMP, P90, Galil, FAMAS, AK47, M4A1, SG-552, AUG, M249-SAW, Scout, G3/SG-1, SG-550 commando, AWP!
Detailed Snipers for shooters who like to be a sniper.
Customize your weapon and get a unique skin to be a cool Multiplayer FPS player.
Upgrade Weapon and Armor System
Upgrade your weapons and armor!
Claim first place at FPS Battleground Arena!
Snipers for shooters who love to be Sniper
The Gameplay
– Deathmatch: It's kill or be killed.
– Team Deathmatch: Team vs Team fight
– Create your games (create any game maps/rules)
-Single Player – Campaign Mode
-AWP Maps for shooters who love to be a sniper
Up to 5vs5 multiplayer online PvP battle mode, fair fight! Have fun with Hazmob FPS: PvP War-Online gun shooting games.