Description
Kids Safe Video player with child lock for watching videos on YouTube or Device. Video player specifically designed for kids and toddlers. Parents can select a list of videos, stored on their device, YouTube or Internet that kids can watch. Kids will only be able to see the list of videos approved by parents.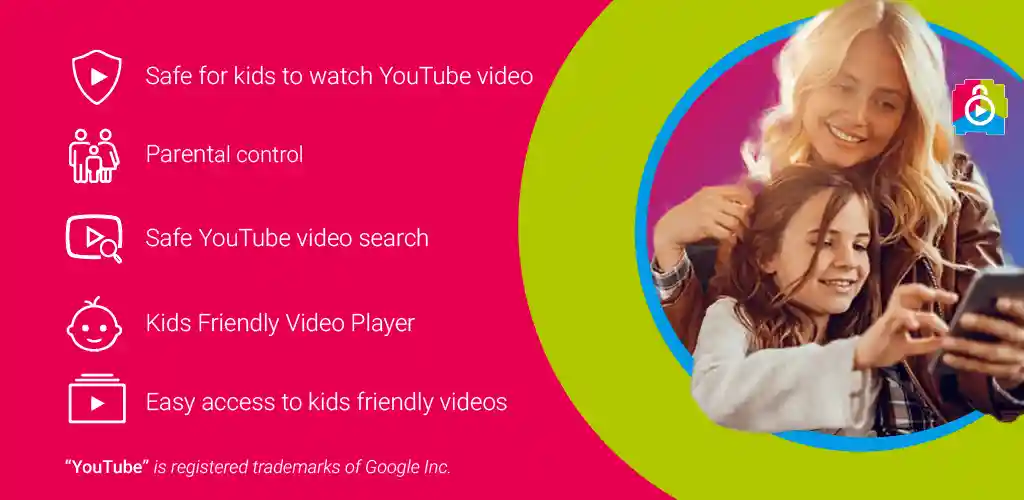 App also allows to search video from YouTube using safety mode so inappropriate videos are not returned in search results. App has been designed to be plugin for Kids Place but can run as a standalone app.
TO USE IT WITH KIDS PLACE :
+Just add the app to Kids Place and launch it from there to make sure all the parental control and child lock settings are enforced when Kids Video Player is being used.
FEATURES :
+ Built-in player plays only the video formats supported by device. Please install MX Player to play      videos no supported by stock player on device.
+ Setting to lock media controller on video player for toddlers and younger kids.
+ Scans your device and external storage for available videos for parents to select from.
+ Safe Search YouTube Videos to make sure they are kids friendly
+ Import your YouTube Playlist
+ Add video URL from internet
+ Lot of options to control behavior on playback completion.
+ Enhanced child lock features based on Kids Place settings.
+ Auto Sync YouTube Playlist
+ Parental Controls
Free version only allows to save and play 10 videos. Please upgrade (via in-app purchase) to licensed version to save and play unlimited videos.
Images