Developer
ORIENT BASIC SCIENCE AND TECHNOLOGY PTE. LTD.
Updated
Oct 10, 2023
Size
91M
Version
8.0.3.11
Requirements
5.0
Downloads
1,000,000+
Get it on
Description
LesPark is a social network app created for lesbian, bisexual, and queer women, with ten million users around the world. Meet new friends and women of your dreams, talk via voice chat, Livestream yourself, and find queer events in the LesPark community.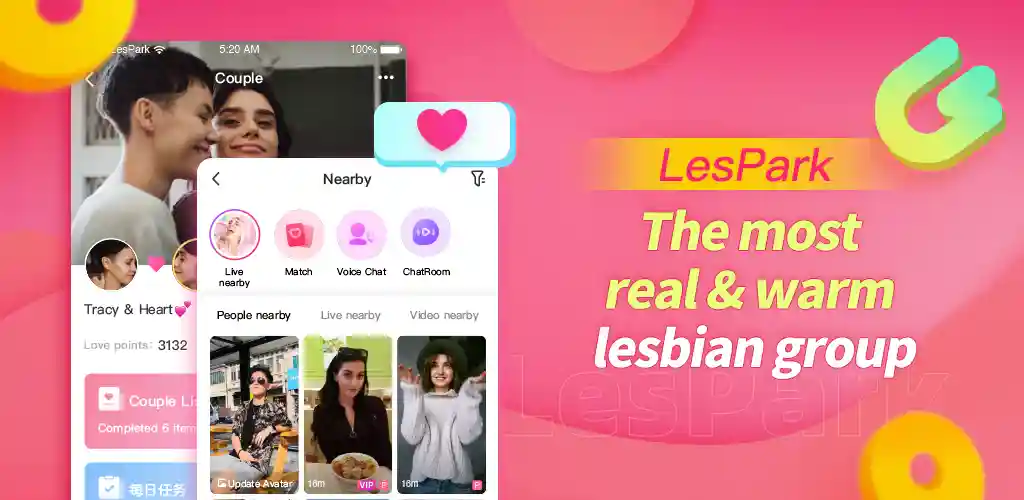 In LesPark, you can be the most authentic yourself freely. Here, you can discuss the feelings and secrets that you are afraid to share with your partners. You can also share emotional topics and various current issues.
In LesPark, you can quickly make new friends anytime, anywhere. Chat, make friends, date. It makes social contact more interesting, more destined. LeaPark is a great real lesbian community.
In LesPark, it will push your favorite and interesting content for the first time and update LGBTQ information daily. What's more, there are a large number of short videos waiting for you to watch and the new content will be presented as soon as possible.
In LesPark, you can use one-on-one chatting to start a new relationship with a dialogue, establish a connection with the person you like and have an unlimited chat. A good relationship may start from here. What's more, you don't have to worry about receiving spam messages.
In LesPark, posting to express your inner feelings, a monologue, a few pictures or a video will let the world hear your voice and keep a good moment by recording.
In LesPark, live streaming is non-stop at 24 hours and connects the whole world. Everyone is not alone, and everyone can enjoy live-streaming media. Whether it's chatting, making friends, real-time interaction, beautiful appearance, showing your talent, you can show yourself and you are a superstar!
When you are limited to a limited range of life or work, it's hard to find partners or like-minded lesbian friends. However, it has become so simple and efficient through LesPark App on your mobile phone. Just use the quick pairing function-slide to the right or left, and you can find the right one in the crowd.
In addition, LesPark staff will check all user files to eliminate all bad or fraudulent behaviors, which will enable you to make real lesbian friends, ask for love, and enjoy an enjoyable journey. "what are you waiting for?
Features:
Livestreaming: show your everyday life to other users
Random chat: talk via voice chat with random strangers and enjoy faster communication
Match: find the right one for you according to your preference and location; subscribe and choose geographic locations other than your place to find your match
Lovers' park: a space specially designed for couples, recording your loving moments
People nearby: find the right one for you with our location-based service
Videos: create and share your short videos with other members in the LesPark community Group voice chat: give virtual gifts to your favorite anchor's Translation: translate text chat into your language Subscription benefits include checking who visited your page.
Safety: LesPark is a women-only space. We are working 24/7 online to ensure that the platform is safe.
‍️‍‍️‍‍️‍‍️‍‍️‍Tips:
1. 100% free to join and play.
2. Women ONLY. 3. 100% free to chat with others About us If you have any comments or suggestions on the products, please contact us.
What's new
1. The new "Confession Plane" gift is available in different colors and plays different special effects
2. The video party team battle gameplay is grandly launched, go and support your favorite anchor
3. New feature "weekly host and party history lists" to see who is the weekly star
4. Optimized some details to give you a better experience
Images