Memasik is free and open for everyone's meme generator and meme editor app. It allows you to generate memes with text/stickers/emojis and dive into the meme community where you can find meme posts, votes, and discussions from the best meme creators.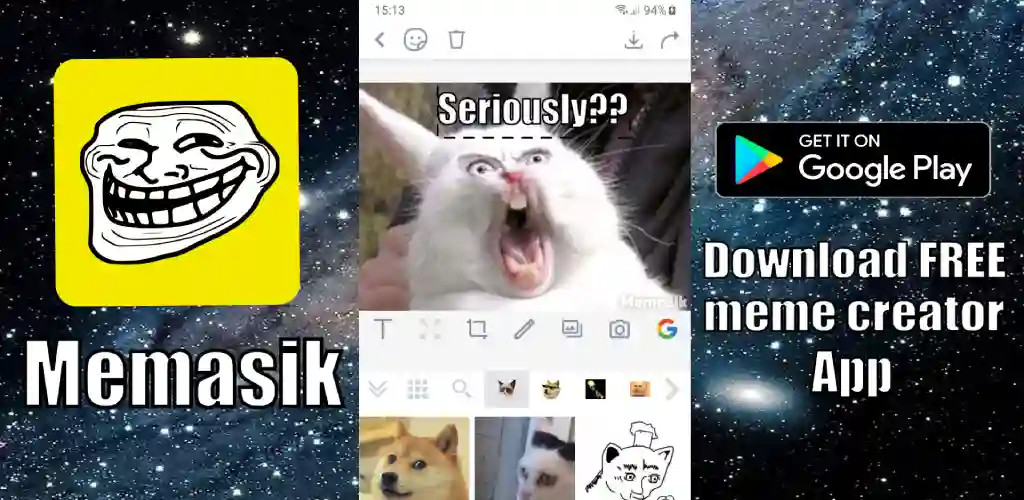 Our Meme Generator features:
★ A large database of memes, that is regularly updated;
★ All the popular and classic memes;
★ Ability to use your own image/photo/meme/sticker;
★ A bunch of Thematic stickers;
★ Adjust text style and size;
★ Move and rotate text/captions, stickers, or emojis as you wish;
★ Interface immediately wins people over;
★ Draw on memes to write messages in your own handwriting;
★ Convenient crop of images;
★ Save memes to your phone;
★ Fast share options to any social networks;
Our Meme Community Features:
★ With our meme generator free app, you can publish created memes right on the wall inside the app;
★ Feel free to like and comment on the posts you go for;
★ Follow users whose posts you like most;
★ Filter the news feed by TOP, New, and Followings ;
★ Use a meme maker to express your opinion;
★ Moreover, you can boost your posts in the TOP using meme coins (the app's internal currency), which you can earn, being a true meme maker 😎
If you want to highlight the most exciting and related content via likes, join our meme community and use our meme maker to create memes with captions, stickers, or emojis.
Here you can find thousands of users to share your passion for funny meme jokes, fake news memes, TV show memes, movie memes, and, of course, game memes. You are free to follow users you find interesting, get your funny memes, comment on meme topics, search for advice, and so on. Besides, you can make your own feed by following your favorite submemasiks.