Mirror: Emoji Maker – Create cute pics in this app. You can create memes, big avatars, and emojis for Android. The coolest meme and face-maker app with a personalized emoji keyboard. The mirror helps you to create personalized and customized avatars for your phone: Samsung, Huawei, Google Pixel, HTC, Meizu, LG, Sony, etc. You can use smart emojis and send your stories to every social network, chat, and messenger. We believe Mirror is one of the best emoji games EVER!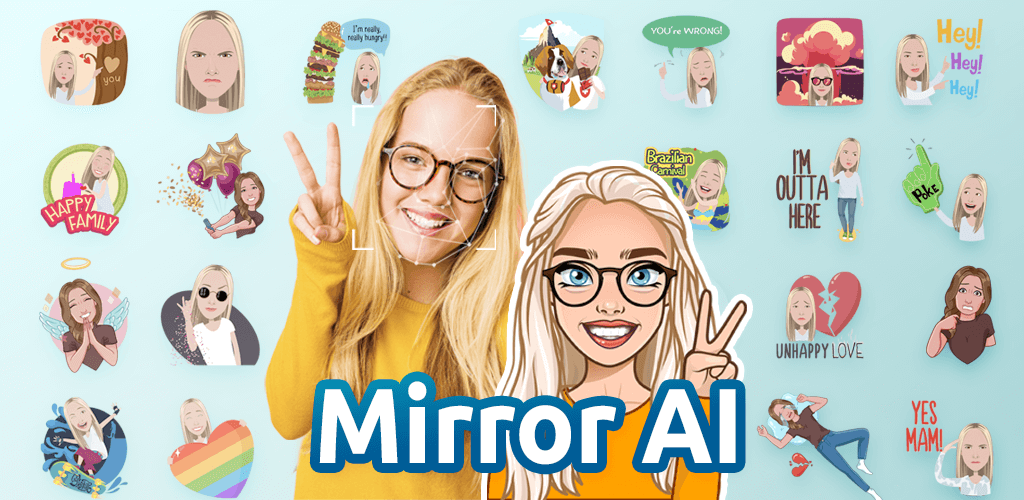 Introduction
Mirror: Emoji Meme Maker, Face App Stickers Creator is an app for creating high-quality 3D avatars. Advanced technology allows you to create your 3D image of her in just a few steps, very easily. This application brings an immersive and satisfying experience that everyone is creatively interested in. Create your cute pictures, cool stickers, and tons of fun emojis.
Nice to meet you on the app page of Mirror AI – an advanced 3D avatar maker! Create your character, cute pics, memes, emoji AR stickers, avatars, and big emoji stickers! Build your personalized emoji keyboard for Android and make your chatting experience more fun.
It's time to add your personal touch to the standard set of keyboard stickers! You can use smart emojis and send your stories to the most popular social networks, chats, and messengers. The mirror helps you to create stickers for WhatsApp and customized avatars for your phone: Samsung, Huawei, Google Pixel, HTC, Meizu, LG, Sony, etc.
The in-app character maker has a great facial recognition feature. With just one picture Mirror easily creates a personalized big avatar that looks almost as good as the real person. Use your anime face to show your reactions. You can also try a celebrity pack creator. Make a personal sticker your online signature!
Features of the portrait maker Mirror AI
Put anything you want on the Decide Wheel and check unique roulette picks.
Let us help you decide in our special way! Get easy answers with a unique emoji wheel. Sticker-making can be much more fun than you think. Spin the wheel and know which ultimate decision to take. Our wheels of fortune are full of surprises, every decision you take shows you options with a cartoon face yourself. It's better than just a coin flip. The lucky wheel helps you to find the right answer. You can ask any questions. Make your decisions in a fun way. Spin and share results with friends.
Custom personalized avatars can be more effective on social media than traditional photos.
Stand out from the crowd while still being yourself. Use a unique, personalized, cartoon photo of you together with different stickers and emojis. Surprise your friends and followers with colorful stickers and gifs starring you! Go a step further, change your face, and use our photo editing tools to insert your avatar into real-life photos – all using one powerful app.
Personal Emoji Top Stickers Keyboard for Android
Check out personalized animated gifs and keyboard customization! Share bitmoji-like stickers to any dialog via Mirror sticker maker: GIF emoji stickers for Whatsapp, Snapchat, Telegram, or Twitter. Mirror avatar maker gives you suggestions for Smiley and Emoji prediction so you can express yourself fast. Add in phrases like "I love you" or "Happy birthday!" and send your presents for texting.
Welcome to the meme emoji generator
Choose funny memes and send them to your friend in any situation. We add new popular meme stickers every month! Our application works with different art styles: pixel art, anime, 3D, and line – you can even make a caricature from a picture.
Texting is an important part of communication
Use Face maker to get animated emojis for Android. You will love moving your gypsy avatar. Send animated faces to messages or social networks to impress your friends with emojis.
Customized Personal Text for Emojis
You can add phrases to your sticker. Send custom smiles and mollify avatars with Mirror smart emojis keyboard for Android!
Style and outfit
There are many applications where you can create your character and live your second life. Try a cool meme avatar editor. In a character creator, you can change hairstyles, makeup, and glasses. Customize your photo with a lot of makeup, cosmetics, or funny cute hats, and make personal stickers!
More Features
Face recognition function
Mirror: Emoji meme maker and face app sticker creator also has a face recognition feature. This feature makes photo creation even easier. With just one sample photo, you can create your avatar quickly and effectively. It's very easy.
All the generators you want
The app lets you create whatever you want via the emoji wheel. Easy to use, just put everything you need on the wheel and then spin the wheel to make the final decision. This spin is exciting as it takes you from one surprise to the next. A spin-end template will appear for you to choose from. What's more, Rotation can also answer your questions, ready to answer every time you ask.
Create Icons from 1 Billion Faces
This feature allows you to create a photo of your face. Your photo will be personalized with different emojis depending on the main emotion of this photo. This allows you to stand out from the crowd and wow your friends and those who follow you on social networks.
Create lots of funny memes
Mirror: Her Emoji Meme Maker, a face app sticker maker, accepts any photo you upload to the app. The application automatically transforms your photos into super funny meme icons in different creative styles during the creation process. Finally, you can add funny texts and phrases to your images.
Different styles and outfits
While creating a photo, you can completely change your character's hairstyle and makeup with lots of beautiful accessories and outfits to create cute and funny characters.
Conclusion
The mirror is a combination of the most popular features – it's simultaneously a cartoon maker from photos, stickers creator, and anime avatar creator. Fun chatting starts with Mirror!