Moon+ Reader Pro is the #1 Paid EBook Reader in Google Play, a Better-designed book reader with powerful controls & full functions, and supports EPUB, PDF, DJVU, AZW3, MOBI, FB2, PRC, CHM, CBZ, CBR, UMD, DOCX, ODT, RTF, TXT, HTML, MD(MarkDown), WEBP, RAR, ZIP or OPDS formats.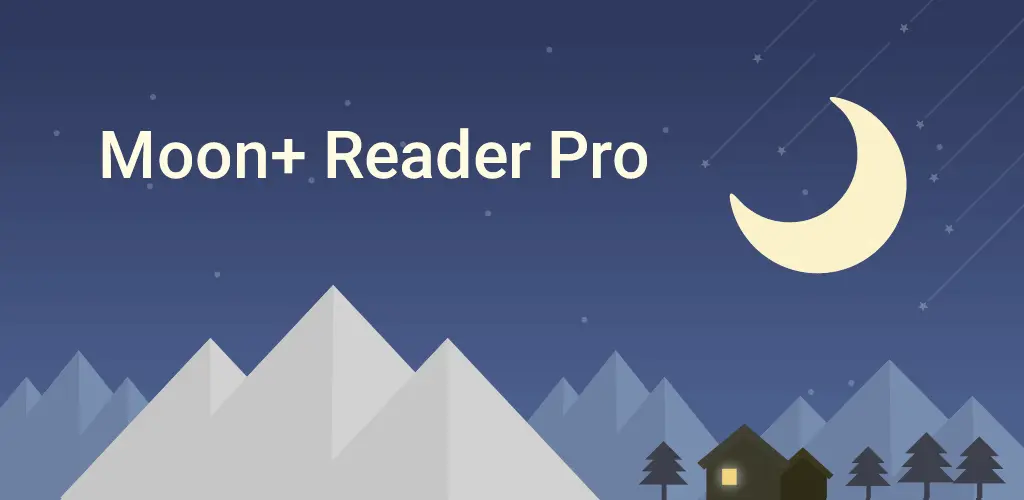 Download Also: Librera PRO – eBook and PDF Reader [Paid]
Moon+ Reader Pro Overview
As the age of technology advances, more and more people are switching from paper books to e-books. The advantage of e-books is that they contain a wealth of knowledge that can be carried anywhere without being as bulky as regular books. When it comes to reading e-books, not to mention the leading Android reading app, Moon+ Reader Pro. If you're looking for a book reader that integrates unique features, this is the app for you.
KEY FEATURES
Ad-free, faster & smoother
Shake the phone to speak (Text-to-speech, TTS engine support)
PDF support, fast & speech compatible
Reading statistics function
More beautiful themes, background images, and fonts
Customize the reader bar function
Headset & Bluetooth keys control
Name replacement | Role reversal
Multi-point touch support
Option for password protection at startup
Book to home screen shortcut
Annotations, highlights & bookmarks share support
Open/Backup/Sync/Download/Upload book files via Dropbox/WebDav
Widget shelf support, group your favorite books, put them on the desktop as a widget
Tilt to turn the page with customized actions
Customer email support
Provides Easy and Convenient Reading
Moon+ Reader Pro is the leading e-book reader app with unique features that bring you the best reading experience. This book reader is the easiest and most convenient way to read text files. Additionally, you can customize your PDF files with the features provided. The experience provided by this application will make you feel like you are reading a real book. You can easily and quickly archive, and mark lines and bookmarks.
This application allows you to read all book archives such as PDF, DOX, and ZIP. Reading books on smart devices can easily cause eye strain and eye problems. , this app allows you to easily adjust the lighting by just swiping the left edge of the screen so you don't have to worry about it.
Unique Text Editing Features
There are up to 24 actions you can choose to customize the pages of your book. It's even more economical and convenient to carry your treasure trove of books with you wherever you go, just like real books. Besides being able to zoom in or out, Moon+ Reader Pro also allows you to write, overwrite, and highlight important information. Only in this one application can you read a book as if you were reading a real paper book and have a text editor where you can edit the font and font size to your liking.
This app is also a dictionary that can translate everything including technical terms with a simple touch. The app offers over 40 popular languages ​​around the world.
Easy to use
This book reader is very easy to use. With a little learning, you can fully utilize this application. To use the application, go to the main screen and select the menu. The menu presents different items that you can choose from based on your needs. Choose Net Library to read books online with a huge library of unlimited books. If you want to read a book from a file, My Self or My File will open the file and start reading.
Special Features
With this Pro version, you can have a comfortable reading experience in your private space without being interrupted by advertisements. Moreover, this application offers a smoother and faster experience than ever before. The application also supports setting passwords, such as digital passwords and fingerprint passwords, to ensure the confidentiality of your documents.
Audiobook mode is considered one of the most popular features of Moon+ Reader Pro. You just need to shake the phone and the text will be instantly converted to speech. If you don't want to read a book as usual, or if your hands are busy and you want to read and work at the same time, this app is for you. Use your headphones to hear the words clearly, and our top inspiring speakers read out great stories.
The design of the application is very simple and beautiful, the application should always take into account the user's preferences. All come with multiple options so you can decide for yourself. You can choose how to turn pages in 5 auto-scroll modes. You can add your favorite authors and works to Favorites. 95% eye protection filters let you choose the light you want.
Conclusion
There is no denying the convenience that e-books bring. No matter where you are, you can absorb the vast knowledge of mankind with just the Moon+ Reader Pro at any time. Packed with the best features, using this app will not disappoint. Reading, editing, audiobooks, dictionaries, everything is fast and convenient. Most importantly, they all fit in smart devices and can be carried anywhere, anytime.