Music Boss for Pebble is the complete media control solution for Pebble and Pebble Time. It allows you to adjust media volume, displays media info for all apps, displays media progress, displays album art*, allows you to start music right from the watch and more. Customize it to your liking and take control of it with Tasker!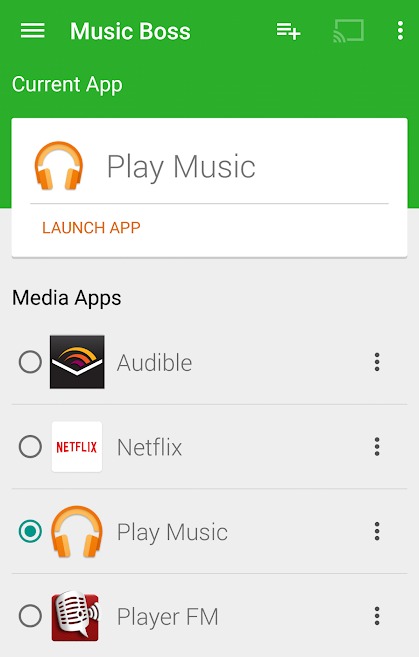 Key Features:
-Album art display and automatic app color theming (Pebble Time (color)/Android 4.3+) http://musicboss.ca/color
-Spotify track info and track progress display
-Rate songs (thumbs up/down) for Google Play Music from your watch*
-Adjust Media Volume with your Pebble while enjoying audio or video.
-Connect to your Chromecast device while casting from other apps for media and volume control. http://musicboss.ca/chromecast
-Displays media information (song, movie, etc) on the Pebble for all apps.
-Media Progress Display for apps that support (Android 4.3+).
-Automatically detects which media app you are using and switches control to it.
-Launch your current media app from your Pebble.
-Create a list of your favourite media apps and quickly change between them in Music Boss or with your Pebble.
-Use existing Pebble Music Watch App or the custom Music Boss Watch App
-Music Boss watch app is integrated with Glance, Canvas, Pebble Tasker, Nav Me and Catapult for Pebble.
-Control Music Boss with Tasker: http://musicboss.ca/tasker
More details:
If you use your Pebble Smart Watch to control one or multiple Music/Audio Apps on your Android Device and if you find that your Pebble should give you more control over your music…You've found the app you are looking for!