Developer
Particle Media Inc.
Updated
Oct 18, 2023
Size
60M
Version
23.41.0
Requirements
8.0
Downloads
50,000,000+
Get it on
Mod Info
◉ Ads related activities and codes removed;
◉ Ads invokes methods nullified;
◉ Ads layouts visibility disabled (Dex+Res);
◉ Advertisement receivers corrupted;
◉ Disabled / Removed unwanted Permissions + Receivers + Providers + Services;
◉ AOSP compatible (No Google);
◉ Kotlin invokations removed;
◉ Native crashlytics SDK removed;
◉ Screenshot restrictions removed;
◉ Root detection removed;
◉ Split APK Repacking files removed (Manifest+Res);
◉ Manifest and APK root path cleaned;
◉ Google Play Store install package check disabled;
◉ Google Play Services signature check verified;
◉ Google Play Billing / Analytics removed;
◉ Google Play Games disabled;
◉ Yandex Metrica / Analytics disabled;
◉ Debug code removed;
◉ Original package signature changed;
◉ Modded by ZackModz
Note: All Patches are applied, Some Patches may not be executed if the required removal codes are not present inside the apk
Description
NewsBreak is your destination for local content. Operating anytime at anywhere in the United States, News Break keeps you informed about your local community, town, and city in light speed. Better informed, better life.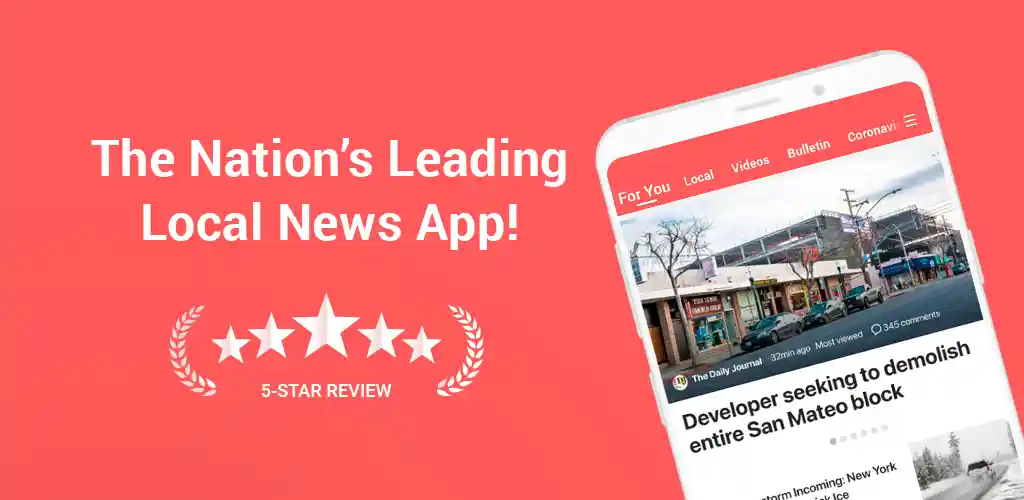 NewsBreak, as a geolocation-aware app that always put you in the center of the local content discovery,
is made just for you: who is genuinely curious about what's going on in your local communities and around the world. From curated local briefing to professionally hand-picked national/world headlines, from emergency alerts to 360 full coverage, News Break is always the must-have news app that gives you insights and value…
Highlights – Local Briefing/For You
• News Break brings you a curated daily brief about news, traffic, event, and beyond…Dig gems that really matter to you!
• Editor-picked national headlines tell comprehensive and in-depth stories. Go deeper on every story!
• News Break's news content discovery engine aggregates rich content from more than 10,000 trusted sources including CNN, Fox News, Business Insider, Newsweek, HuffPost, Reuters, The Associated Press (AP), Bloomberg, Time, and more… Browse content at any time, any location!
• A highly personalized feed caters your curiosity and reading interests, making you read content that's really interested you. Read stories with purpose and value!
Better Informed, Better Life – Know Your Town
• Find local restaurants, deals, shop openings, and more ahead of time from one app.
• Read personal and vivid stories from our local writers & content creators.
• Treat us as your personal newsstand, magazine collector, restaurant reviewer, and more.
• Go beyond the mainstream & cacophony of information, explore your community and discover hidden gems.
Create Civic Value – Support the Cause
• Use News Break meaning revive the local news ecosystem and support small publishers
• Increase local story volume and geographic coverage to stimulate local storytelling and community power
Be Yourself, Be Cool – Follow or Block the Trend
• It's totally cool to stay on top of some topics, or totally hate them! News Break allows you to follow what is trending, or completely block some topics you don't appreciate.
• You can laugh, share, think, cry, upvote, downvote, comment, reply…News Break is a free ground that welcomes you to express emotions & opinions.
• From HBO's Game of Thrones to hot video game Fortnite; from funny standups to the latest internet memes…find yourself be surprised.
Download today and stay informed on the local news!
Better informed, better life.
Images