Developer
GILRAEN LIMITED
Updated
Jul 23, 2023
Size
38M
Version
7.0.6
Requirements
7.0
Downloads
5,000,000+
Get it on
MOD INFO
Languages: en, ru, uk
Platforms: arm7 +, x86 +
Unlocked PRO: Spy and Anti-Spy subscriptions, all emoji are available in reviews
Removed restrictions on finding numbers not from contacts
Replaced application icon (pro)
Deeply optimized application graphics
The work of analytics is blocked, thoroughly
Cut unnecessary classes (fabric, analytics, measurement, etc.)
Modification is untied from Google Services
Signature changed
Description
NumBuster – Free and effective SAFE CALL management APP. Caller name id app for incoming calls from unfamiliar phone numbers that are not in your contacts or phonebook! Fake or unwanted robocalls will not bother you anymore now!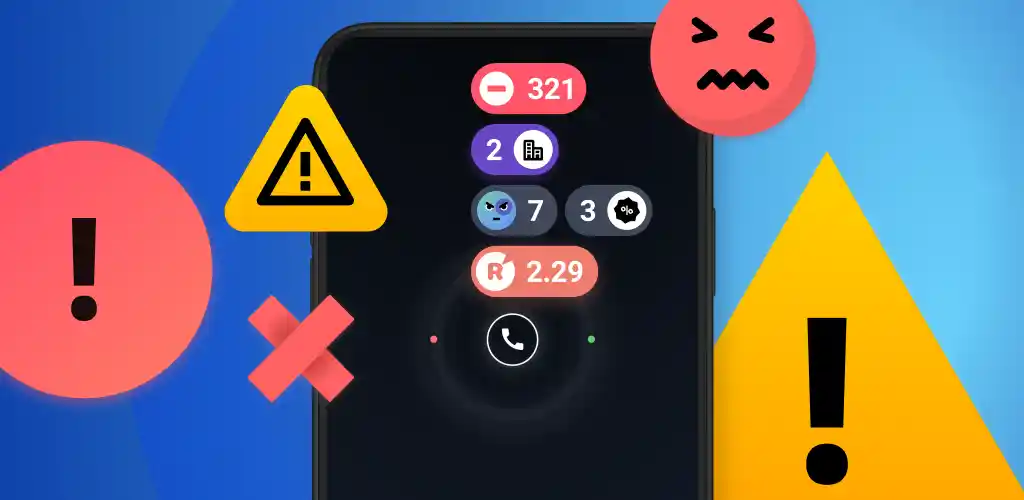 – you can anonymously see how this telephone number is stored or called by other people
– you can send a request to any NumBuster User in your contacts – and find your mutual acquaintances! Who are your mutual friends? It's useful, safe and just fun!
⚠ PERMISSIONS NEEDED BY THIS APP: Caller ID
Detection and blocking of spam (SPAM detection and blocker)
Application for SMS by default (Default SMS manager)
Call screen and default dialer application (Default app for Phone Calls).
This permissions will let you to:
– check calls for their ratings and tags and block them – right in call log inside NumBuster app!
– check SMS text senders and block sms texts – right in sms log inside the app!
– use NumBuster as default SMS app and feel safe about texts from unknown senders!
– use NumBuster as default caller app and find out who calls you right on the call screen!
Become a part of NumBuster Community with more than 2 million Users!
★ Check unfamiliar numbers for SPAM or FRAUD.
★ Mark them or tag them – so you will help another people to avoid unsafe calls and SMS
What you will get for free :
★ Automatic phone number lookup with built-in Caller ID feature before you answer the call
★ Definition of service provider, carrier and possible location of the caller – you'll see region, country and area, where actual phone number was registered
★ Block incoming calls, free social blacklist for SPAM calls
★ Automatic Protection against fraud, advertising (spam), calls from the debt collectors, car dealers, salesmen and criminals
★ Social Blacklist is constantly updated with new features, guided by the opinion of real people about various phone numbers
★ Built-in incoming calls history log, as well as contacts lists with easy caller verification directly in the app – just enter caller's Profile and see his rating, tags, possible names, etc.
In addition to our struggle against telephone scammers, advertising, telemarketers, surveys, resellers and financial SCAMMERS, NumBuster constantly learns and verifies the numbers, which used by:
✪ banks
✪ stores
✪ auto dealers
✪ insurance companies
✪ debt collectors
With our free social caller ID in calls and SMS, you can find out whose phone number calls and whom it belongs to. This helps to understand who is calling, using an unfamiliar phone number. You can always block unwanted calls
☢ blacklist – protect yourself from debt collectors, you will always see the collector, who hides behind a strangers' phone number in calls or SMS texts.
❶ Identification service operates during an incoming call and displays the on-screen information about incoming calls and numbers in the built-in call history and sms log
❷ This program uses an experience of more than 2 million of users and allows you to block 100% of unwanted calls with ads and fraud, robocalls
PC Magazine / RE: "NumBuster – application of the year 2015!"
⚠IMPORTANT
✪ Your phone number will still be available only to the person to whom you call yourself – we carefully guard your data, contact lists and call logs from intruders
✪ No one can get your phone number from NumBuster, using search by name
✪ Internet connection is required for Caller ID
Images