Description
Power Audio Equalizer FX is unlocked to boost and restore sound quality with an unmatched equalization that works with a wide range of music players and audio playback to get the best sound out of your device.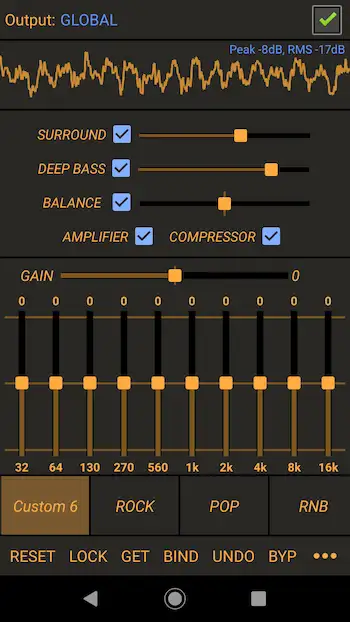 Power Audio Equalizer Features:
Supports music and audio apps such as Youtube Music, Google Play Music, Spotify, and many more
Works with device global (system) audio output to increase sound effect compatibility
Optimized new DSP includes 10-Band equalizer offers +/- 15dB boost/cut range with adjustable power levels
Precise (pre-amp) power amplifier effect with optional volume boost of up to 45dB
Compressor for audio dynamics
Audio effects include a bass boost to enhance bass and virtual surround with up to 10dB adjustment
Loudness Enhancer effect
Sound Balance control to adjust the volume of left / right stereo output
Very high-quality music visualizer with real-time Peak and RMS values
Customizable equalizer presets (Flat, Rock, Pop, Dance, Classic, HipHop, Acoustic, and so on )
Supports a wide range of audio devices such as headphones, headsets, speakers, and Bluetooth sound systems
Regular updates and user support
Use it as Sound Booster
Power Audio Equalizer is a great choice to boost volume and improve sound quality with high-quality audio effects that work with music players and audio playback to get the best sound out of your Android device.
Easy to use, musical EQ
Power Audio Equalizer uses the powerful sound engine of RE Equalizer for the best audio results. Now you can get a high-quality music listening experience and enjoy your favorite songs from speakers or headphones by pairing Power Audio Equalizer with music and audio apps.
Amplify your sound
Featuring the high-performance 10-Band equalizer with bass booster, volume amplifier, and sound balance settings, the Power Audio Equalizer allows more precise sound tweaking.
Power Audio Equalizer is a major update in the music and audio class with a wide range of sound effects to enhance your audio and work with all music and video players.
Usage:
Install the Power Audio Equalizer app
Play music from the music player
Open the Power Audio Equalizer app and adjust the sound levels
Use speakers or headphones for best results
Note:
Your feedback is appreciated and important to us. Feel free to contact us anytime.
Power EQ is not part of any other software and acts as a standalone third-party app.
What's new
- Compressor / Amplifier effects
- More custom presets and sound improvements
- Global Gain option added to fix Gain issues on some devices
- Balance feature added (for Android 9 or above)
- More controls in main notification
- Assign/select presets with Wired / Bluetooth
- Bugs / Crash Fixes
Images