Developer
Stream Game Dev
Released on
Apr 29, 2020
Updated
Mar 10, 2023
Size
40M
Version
3.5.0
Requirements
5.0
Downloads
1,000,000+
Get it on
Description
PSPad lets you use your smartphone as a Dualshock controller for your PS5/ PS4. Do you want another game controller for playing games with friends on your PS5/PS4.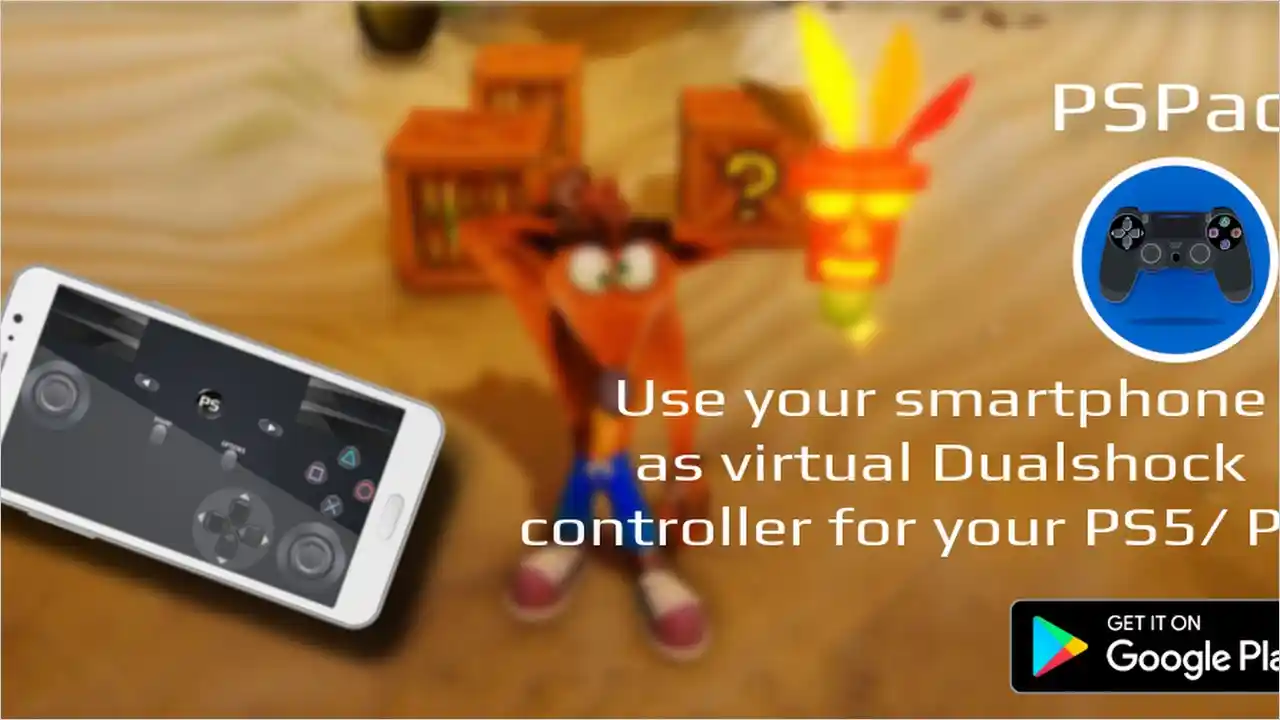 Introduction
PSPad offers you the possibility to use your smartphone as D-Shock controller for your PS. Do you need a second D-Shock gamepad for playing multiplayer games on your PS*, did your D-Shock gamepad break down and you need a quick replacement, do you want to use your Android controller on your PS? Well, then PSPad is the right app for you.
Instruction video: https://youtu.be/YkCqY8ApJUU
Hardware recommendations
• A wired Internet connection for your PS is strongly recommended
• Smartphone should be connected to a 5GHz WiFi for minimum delays
• A high-speed internet connection with upload and download speeds of at least 15 Mbps
PSPad connects to your PS via the Remote Play protocol. PSPad allows you to remote control any PS game which supports Remote Play.
Main Features
– Easy Connection Setup
– Microphone support
– Motion sensor support
– Use PSPad as virtual D-Shock controller for your PS
– Forward all connected Android controllers commands to your PS
– Create individual controller button mappings
Limitations
– Because of how PSPad works, using Remote Play will not work while using PSPad
– You cannot connect multiple PSPad apps to your PS at the same time
– To connect a controller to your PS while using PSPad, you need a second PS profile
– Connection can only be established via WiFi
PSPad connects to your PS via the Remote Play protocol. PSPad will only work in applications and games which support Remote Play (almost all games support Remote Play). As PSPad is connecting to your PS via the Remote Play protocol, the PS is sending audio and stream data to your smartphone. Despite no audio and video will be displayed, PSPad does receive that data which may have an impact on your internet traffic so please keep that in mind.
❗
Problems with the Account login
❗
This problem only affects users with PS firmware 7.0 or later where a account login must be performed to get your Account ID. Recently, some users reported problems when performing the login. More information here:
https://streamingdv.github.io/pspad/index.html#line8
Support
All information about PSPad can be found here:
https://streamingdv.github.io/pspad/index.html
*Please note: If you want to use PSPad as second gamepad in addition to your real D-Shock controller you must have at least a second PS guest profile on your PS. The real D-Shock controller must then be connected to the PS profile which is not currently used by the PSPad Remote Play session, otherwise PSPad will be disconnected.
Disclaimer: all possible mentioned trademarks cited here are the property of their respective owners.
What's new
Use your smartphone as mobile D-Sense/ D-Shock gamepad
• Connect Android gamepads through PSPad to your PS
• Customize the onscreen layout
• Supports gamepad button mapping
What is new in this version
- Minor improvements and bug fixes
Images