Pujie Black watch face for Android Wear is very easy to use the digital and analog hybrid watch, face designer. It has a huge number of settings and a futuristic on and off animation pattern.
You can customize it to be very information dense including the date, phone and watch battery status, local weather information, your calendar events, and your fitness data. Or you can leave the watch face as simple as you like. Ambient mode and interactive mode can be customized separately allowing you to be analog in one state and digital in the other.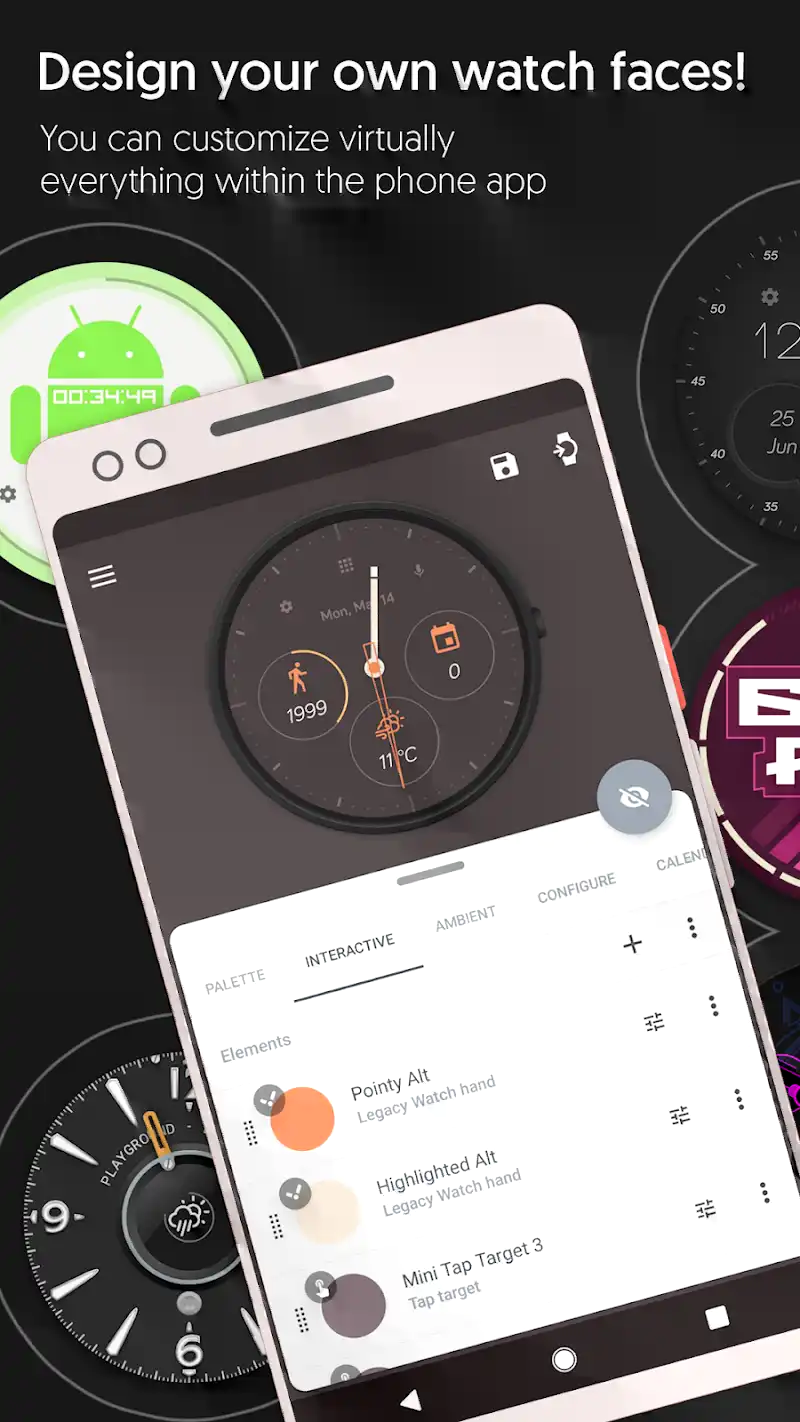 Android Wear 2.0 (preview)
• Run standalone
• Use external Complication providers for the background and indicators
• Import presets from the web
Interactive Android Wear Watch Face / Launcher
Pujie Black allows you to assign custom actions to a huge number of possible tap targets. The Tap drawer, a panel with 6 tap targets, 4 mini tap targets, and all three indicators make up to 13 assignable tap targets! In essence, it's a watch face and launcher in one. For all these tap targets you can choose from:
• The Pujie views (Calendar, Fitness, Weather & Tapdrawer)
• Any installed watch or phone app
• Tasker tasks!
• Shortcuts!
• Watch actions (volume up/down, voice search, etc)
• Phone actions (play/pause music, volume controls, etc)
Design
Design your own watch hands and backgrounds with the included vector drawing tool!
Widget
Even when you don't own an Android Wear smartwatch you can use Pujie Black Watch Face. You can use the same app to create a home screen clock widget!
Key features
All settings are available using the launcher icon or from the Android Wear companion app.
✔ 20 presets to get you started
✔ A big community of active presenters
✔ The design you own analog watch hands (or use the default ones)
✔ Fully animated watch face
✔ Tasker integration
✔ 5-day weather forecast
✔ Start any watch or phone app
✔ Share your presets with others
✔ Works for round and square watches
✔ Google Fit supplied a Step counter, biking, running, and walking activity tracker
✔ With calendar integration, view your events on a second screen!
✔ Optional digital clock (24 hours or 12 hours, seconds are optional)
✔ Weather indicator, Celsius or Fahrenheit
✔ Phone and watch battery indicators
✔ Multiple time zones
✔ Fully animated change from ambient mode to regular mode
✔ Screen on duration
✔ And much more
Specific Android Wear options
✔ Short or regular peek cards
✔ Translucent or opaque peek cards
✔ Background visibility of the peek cards
✔ Choose whether the peek cards are visible in ambient mode
✔ Choose hotword ('Ok Google') position
✔ Choose the status bar (mute icon, disconnected icon, etc..) position
✔ Choose whether you want to show an unread indicator
1. After installation run the 'Resync app' on Android Wear App.
2. Long press your watch and choose Pujie Black as your watch face, or select the watch face using the Android Wear app.
To activate a widget
1. Long press your home screen or go to the widget section in the app drawer (depends on your launcher)
2. Choose Pujie Black.
3. Design a new style, or choose one of your presets
4. Place and re-size to your liking
Compatible with all Android Wear watches:
– Huawei Watch
– LG G Watch
– Casio Smart Outdoor Watch
– LG Watch Urbane (all versions)
– TAG Heuer Connected
– Motorola 360 (all versions)
– Fossil Q ( Founder, Marshal, and Wander )
– Samsung Gear Live
– Sony Smartwatch 3
– ASUS ZenWatch ( all versions )
– MK Access
– Nixon The Mission