Description
Recovery is the ultimate solution for anyone who has accidentally deleted or lost important data from their device. With Recovery Pro, you can easily recover your deleted photos, videos, audios, and contacts. Recovery algorithms ensure that your data is restored quickly and efficiently. Whether you accidentally deleted a photo or lost your entire contact list, Recovery has got you covered.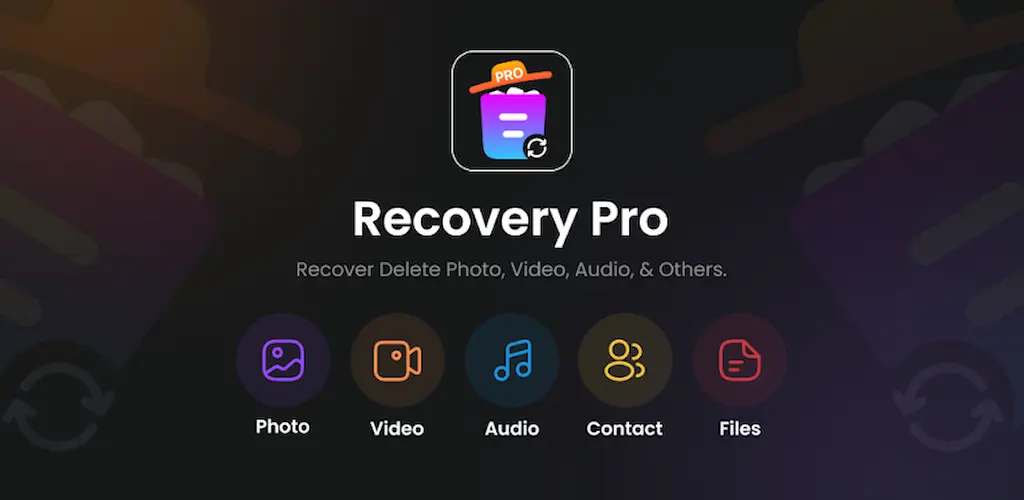 App uses scanning technology to identify any recoverable deleted data on your Android device. It can recover deleted files from internal storage, as well as from external memory cards. Whether you lost data due to a software issue or accidental deletion, Recovery can help you get it back.
Here are some of the key features of Recovery:
Quick and Deep Scanning
Recovery uses scanning algorithms to quickly scan your device and identify any recoverable data. If the deleted files are not found in the quick scan, our app can perform a deep scan to uncover even the most hard-to-find files.
Multiple Recovery Options
Recovery offers various recovery options to suit your needs. You can choose to recover specific files or restore all deleted data like photos, videos, audio & contacts.
Preview Function
Recovery allows you to preview the recoverable files like photos, videos, audio & contacts before restoring them. This way, you can ensure that you are recovering the correct data.
Safe and Secure
Recovery is completely safe and secure, ensuring that your data is protected throughout the recovery process.
Supported File Formats: Recovery can recover a wide range of file formats like contacts, videos, audio & photos, including JPEG, PNG, MP4, AVI, and more.
So if you've accidentally deleted important photos, videos, or contacts, don't panic. Recovery is here to help you recover your lost data quickly and easily.
Our app is also safe and secure, so you can recover your data with peace of mind. With external memory cards supported, you can also recover data from removable media. Don't just take our word for it – our software has received positive reviews and high ratings from our users. So if you need to recover lost data on your Android device.
RECOMMENDATION🧾
We are continuously enhancing and so we are open to any suggestions for better user experience. Please write us at [email protected]
Kindly do visit our website to see the full range of premium photo and video tools https://www.fusionmobileapps.com
What's new
New Release of Recovery Photos Videos & Contacts🚀
Recover all deleted Photos🎞️
Recover all deleted Videos📹
Recover all deleted Audios🎼
Recover all deleted Contacts📞
Merge duplicate Contacts📲
Images