Developer
Deca_Games
Released on
Mar 21, 2018
Updated
Nov 14, 2023
Size
1.01G
Version
1.3.2
Requirements
6.0
Downloads
10,000,000+
Get it on
MOD INFO
MENU MOD
Unlimited Ammo
Dumb bots
Description
Experience epic story campaigns, competitive PvP, or cooperative online games! In the sci-fi world of Shadowgun Legends, humanity is under attack from a deadly alien invader. The last line of defense is the Shadowguns, legendary warriors and heroes. So what are you waiting for? Join the shooting games and show the galaxy who's boss!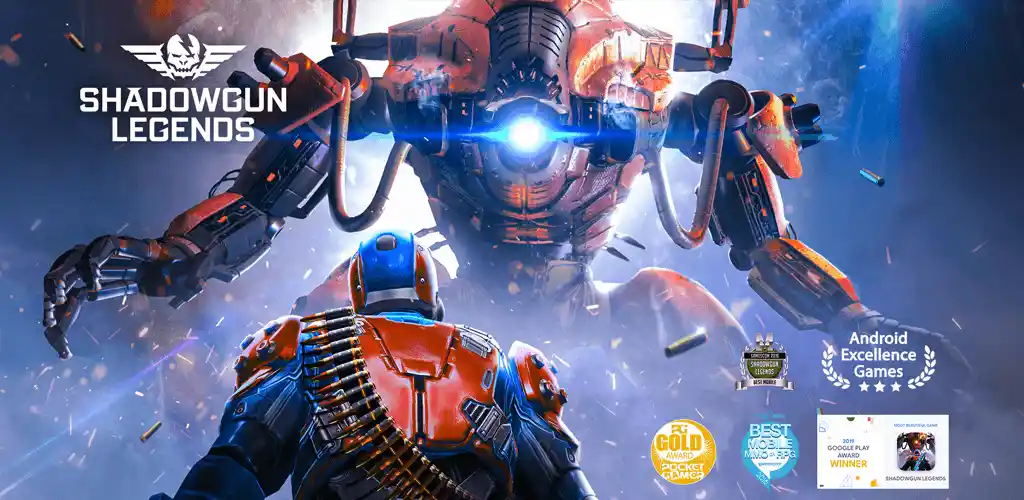 ★Choose between a touch control or an enhanced virtual joystick. Best controls in FPS Games ever!★
The unique FPS control scheme is approved by millions of players worldwide. Our autofire shooting controls let you focus on your survival.
★Thrilling Story Campaign, fully playable in cooperation with your friends★
Fight for the survival of humanity in an epic Story Campaign spanning more than hundreds of missions on 4 diverse planets. Now every mission is playable in the cooperation!
★Hardcore Experience in Raids and Arenas★
Join forces with friends and shoot giant enemy bosses for glory and legendary loot together. Or try to survive in War Games arenas. From Casual to most Hardcore.
★PvP Multiplayer Battles★
Fight your rivals in PvP multiplayer games modes and diverse PvP arenas. Challenge friends in 1vs1 duels or join a team in 4vs4 multiplayer games for the best PvP moments ever.
★700+ Weapons, Customize Weapons, and Skins!★
Choose from 700+ guns including Pistols, Assault Rifles, Sub-Machine Guns, Heavy Machine Guns, Shotguns, Sniper Rifles, and Rocket Launchers.
★60+ Beautiful Armor Sets, Fully Customizable, Paints, Skins, Stickers★
Collect over 1000 armor pieces, find all Paint cans, Skins, Stickers, and build your own unique-looking armor sets.
★MMORPG Online Multiplayer Experience★
Interact with other players, visit vendors, accept missions, party hard, and much more in the game's persistent Hub. Chat with friends, create battle squads, and form guilds.
★Unique Reward System – Became part of the Universe★
Our new Fame System appreciates every action. The more famous you are, the more the world will react to your actions! Become legendary!
★ High-End Graphics★
We push the frontier of what is possible on mobile devices! Shadowgun Legends is a groundbreaking online shooter that blurs the lines between console and mobile gaming.
✔ Play the best FPS RPG Shooting Online Games for FREE! Join the fight now!
Experience PVP multiplayer games with coop or play as a lone wolf. Find new friends in this popular FPS RPG multiplayer game. Enjoy challenging battles, relaxing times in the pub, or gather legendary loot.
From the authors of Dead Trigger, Dead Trigger 2, and Unkilled, successful zombie FPS games were downloaded by more than 250 million players around the world.
We've always challenged ourselves to push the boundaries, and we're proud of our console quality FPS. From cutting-edge graphics to our precise FPS control system, hundreds of millions of players worldwide have been blown away by innovative approaches and dedication to quality. We are the best developer who is developing FPS games and shooting games since 2010.
Now we're taking hardcore mobile shooting games to the next level.
If you are tired of playing the same old Battle Royale or PvP only games, download Shadowgun Legends – The Best FPS RPG shooting online game!
Dead Trigger, Dead Trigger 2, Shadowgun, Shadowgun Legends, Shadowgun War Games, Monzo, Unkilled are trademarked by MADFINGER Games 2020
What's new
Great news! We have just released a new update 1.3.2 full of improvements and bug fixes.
Don't forget to let us know what you think about the update.
Images