Developer
Smart Media4U Technology Pte.Ltd.
Updated
Sep 20, 2023
Size
50M
Version
3.6.98
Requirements
4.1
Downloads
100,000,000+
Get it on
Mod Info
– Ad-Free Version
– Analytic disabled
Description
SHAREit Lite MOD APK enables to share photos, videos, music, any files with friends "face to face OR far away", and no limitation on file type or file size, or the number of files.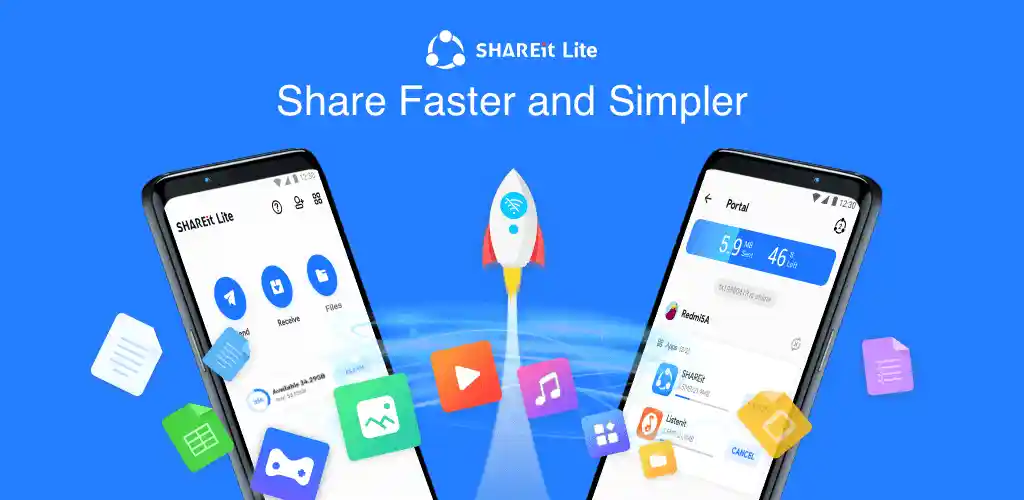 Developed by the SHAREit team, Compatible with SHAREit, transfer files with SHAREit without barrier. Ads free! Provide transfer features only. Smaller app size to save your mobile storage. Faster transfer speed with no data required, making your life more convenient.
[Main Features]
►100% SHAREit Transfer any files face to face with friends, no Internet needed, with lighting speed.
►AD-free No ads interruption while using the app. SHAREit lite provides a simple and user-friendly interface for file transfers.
►Share Anytime SHAERit Lite lets you keep in touch with friends, you can share any files at any time.
►Any File Type Transfer all types of files without losing quality: photo, video, ebook, docs, music, app, zip, txt, etc.
►Any File Size Share movies, videos, photos, music, apps, documents, and any other file types of unlimited file size.
►Any Number of Files Send many files as one collection: photo album, video collection, music album, movie collection, documents, etc.
NOTE: We need several system permission for a better transfer experience, SHAREit Lite will not access permissions that are irrelevant to our functionality. By accessing Location, SHAREit Lite can help to discover nearby users (when face to face sharing, we need to scan nearby receiver devices but this capability was embedded in Location permission by Android System). By accessing Bluetooth Connection, SHAREit Lite can discover nearby users more quickly so as to connect with Sender/Receiver more efficiently.
What's new
- SHAREit Lite is now smaller, simpler yet more powerful!
- New Home tab showcasing powerful and easy-to-use functions such as transmission and cleaning;
- New Me tab for viewing transfer/cleaning data, with more intuitive settings and switches;
- The most popular night mode is now back (Me tab - Settings Button - Appearance)
- We'd love to hear your thoughts on the new version, please go to the Help Center to leave us a message (Me tab-Help Center)
Images