Developer
Smart Media4U Technology Pte.Ltd.
Released on
Jun 9, 2023
Updated
Sep 11, 2023
Size
13M
Version
1.1.68
Requirements
4.4
Downloads
500,000+
Get it on
Mod Info
◉ Premium Features Unlocked
◉ AOSP Compatible / No Google
◉ CPUs: arm64-v8a, armeabi-v7a
◉ Full Multi Languages
◉ All debug Info Removed
◉ Original Signature Changed
Description
SHAREit Premium is SHAREit's brand-new APP, with no annoying ads and notifications, a simpler interface, supports the sending and receiving of large files and games between mobile phones, mobile phones and computers, and a faster transfer speed of 50 MB/s.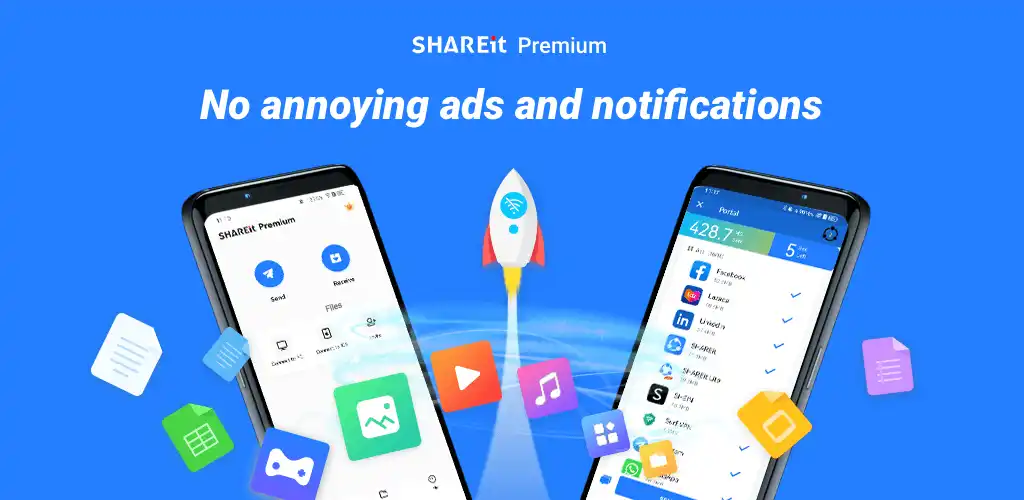 Why you must have SHAREit Premium?
1. No annoying ads.
2. No annoying notifications.
3. Send and receive big files & games.
4. The transfer speed can reach a faster 50MB/s.
Description: SHAREit Premium must complete the subscription in order to use it.
SHAREit Premium features:
THE FASTEST FILE SHARING AND APP SHARING IN THE WORLD
With 200 times faster than Bluetooth, the highest speed goes up to 50MB/s. Send and receive files without any data consumption, share files without any quality loss.
Any large game application can be shared in seconds, such as Free Fire, PUBG, Minecraft.
HIGH PRIVACY & DATA SECURITY
We know that privacy and data security are important, so we make sure they're protected in the best way while you enjoy your files transfer, for free. With SHAREit Premium, you can quickly and securely send and share any file, anywhere in the world.
POWERFUL CROSS-PLATFORM TRANSFERRING, SUPPORTS ALL TYPES OF FILES
Experience the best data-free file transferring and sharing app that offers cross-platform transferring, supports all types of files and makes your life easier. You don't have to worry about the size or type of data anymore because SHAREit Premium helps you send large files without limitation across all your devices. Transfer: Apps, Games, Photos, Movies, Videos, Music, GIFs and Wallpapers with just one tap!
Download SHAREit Premium now! It's the perfect app to share and transfer files! If you like it, Share it with your friends!
What's new
Update:
Major update! Significantly improved transfer speed! (Both sides need to have the latest version of SHAREit Premium. For SHAREit and SHAREit lite, you need to actively turn on "Turbo Mode").
SHAREit Premium can transfer with SHAREit and SHAREit lite. SHAREit Premium has a smaller size, no ads, no notifications, and faster speed.
Images