Grow your business with SKEDit. The all-in-one Scheduling & Autoresponder app allows you to Schedule WA / Telegram Messages & WA Status, set WA auto-replies, and Schedule SMS & Emails.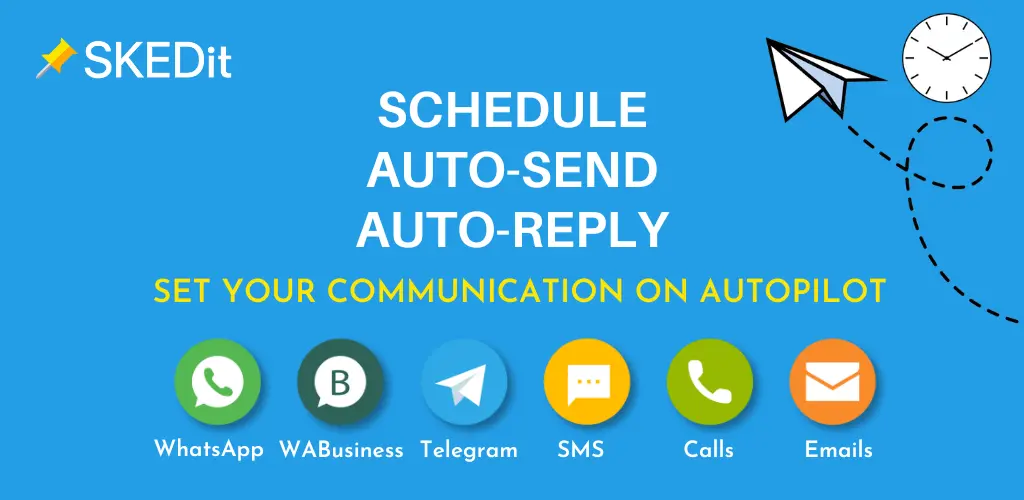 This Scheduling app & Autoresponder acts like your personal assistant. Boost productivity, save time, and reduce stress!
Schedule, Auto-Send, Auto-Reply; SKEDit – Set your communication on Autopilot
SKEDit is a marketing and productivity tool for small businesses & busy individuals that covers the whole communication cycle. SKEDit schedules WA / Telegram messages & WA Status, auto-sends WA Messages, and Auto-replies to incoming responses!Let SKEDit take care of the messaging while you focus on something else!
Why SKEDit:
+Increase your audience reach and win more business– contact more people faster with message & Status scheduling
+Improve engagement & experience – send personalized messages to many people at the right time & set custom auto-reply rules to complete the communication cycle
+Boost productivity, save time, & organize your communication with SKEDit's various scheduling features
+Stay on top of important communication by planning it ahead of time
+View your communication schedule across multiple channels in one place
+Let SKEDit do the hard work while you focus on other tasks – SKEDit schedules, SKEDit sends, SKEDit replies!
SKEDit Features
+Automate WA and Telegram message sending
+Schedule WA Status
+Send unlimited messages
+Add unlimited recipients
+Add unlimited attachments of all formats: Images, videos, audio, .pdf, documents, & more
+Include location at time of sending
+Include current location at time of sending
+WA AutoResponder: set custom auto-reply rules – exact or similar matching of one or more keywords/phrases, & decide whether to include/exclude certain contacts
+Set customized repeats (e.g., by day of the week) when scheduling a message
+Create Drip Message Campaigns for WA, Telegram & more
+Add recipients in bulk with .csv
+Calendar View of scheduled messages
+Multiple contact selection when scheduling
+Create & Save Message Templates for WA & Telegram scheduling or WA Auto-replies
+Use Labels to categorize your scheduled messages
+Message Statistics & Analytics on SKEDit scheduler
+Fast multi-language support
Possible Use Cases
● Marketing & Sales: Lead follow-ups, pushing product promotions and new collections, Engaging with customers with various announcements, etc
● Business Productivity: Auto-sending messages in different time zones automatically, Send instructions to your team, Send out job opportunities, etc
● Reminders: Appointment & task reminders, Special occasion reminders & greetings (birthdays, new year), General announcements
HOW IT WORKS – 3 EASY STEPS
[1] Choose Communication Service: Select the channel you'd like to automate or set auto-replies for
[2] Add Content: Write down your message or add a WA status
[3] Schedule: Set the exact time & date for your message, sit back & relax while SKEDit handles the rest – from auto-sending to auto-reply.