Description
Speech Assistant AAC is a text-to-speech app designed for people who are speech impaired, for example, due to Aphasia, MND/ALS, Autism, Stroke, Cerebral Palsy, or other speech problems. With the app, you can create categories and phrases, which are placed on buttons. With these buttons, you can create messages that can be shown or spoken (text-to-speech). It is also possible to type any text using the keyboard.
The app is easy to use and can be completely customized to your needs and preferences.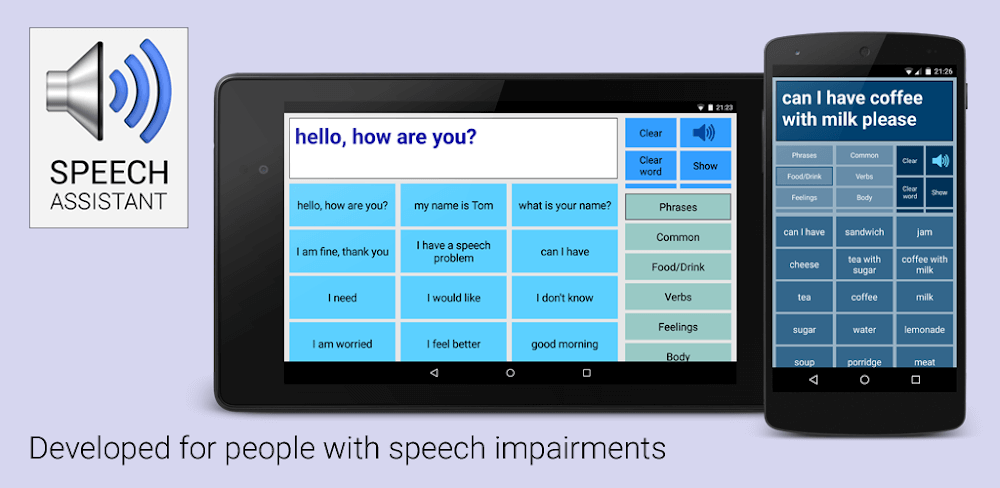 Speech Assistant AAC Description
Speech Assistant AAC is an application for people who are sick or have communication difficulties. They can communicate with others by typing text, which is passed on to others by voice. At the same time, the number of saved words can be gradually increased depending on the context to save time typing the text.
The application can ultimately help many people to communicate easily with:
Users, especially those with diseases that hinder communication, can easily transmit the content they want to others.
Content can be entered manually or assembled from words stored in the application, and the content can be mixed with audio.
The interface of the application is entirely usable with ease in entering text, searching for appropriate text categories, and adjusting some features.
You can completely adjust some elements related to text and categories, such as adding the texts you often use in different contexts.
The voice in this application can be changed entirely to ensure the transmission of the content and follow the user's wishes.
Easy communication by text
The function of Speech Assistant AAC is simple, you can easily communicate with others in any situation. It perfectly applies to many people like aphasia, autism, and many other disorders that cause communication difficulties. Quick to learn and insert into your application.
The interface is easy to use for most people
The first impression of Speech Assistant AAC is its easy-to-use interface on first use. It can be used on both vertical and horizontal screens, and you can enter text for easy communication. At the same time, next to the text are function buttons that help you use the application more effectively. It is convenient to activate the feature with the A and arrow icons. This allows other people to see what you're trying to say when you two face each other.
Just type the text on your audio device
One interesting thing users love about using Speech Assistant AAC is custom text input. In particular, there is a list of words that can be touched and combined into meaningful sentences. As soon as it becomes a meaningful sentence, it will be read aloud or a speaker icon will appear. At the same time, if the text you want to say is not already in your device's library, you can also enter the text yourself.
Add text to different text categories
Voice assistant AAC texts are usually very rich and their number increases over time. After adding these texts, an Add button appears at the bottom of the list of available texts. Also on the right is a list of categories containing text types depending on the context of use. This makes it easier for you to find the text you are using when you add it so you don't have to type your content all the time.
Easily customize text and categories
An interesting thing that we can find in this application is the customization of some elements related to texts and categories. You can easily adjust the position of the text within each category to make it easier to find or keep it in the order you want. At the same time, the number of these categories continues to grow as you can add or edit some items related to these categories. B. Remove what you deem unnecessary.
Change app voice easily
You may notice familiar sounds made by content readers that are similar to those made by Google. If you don't like it, you can change this voice completely in the settings and download another suitable one.
Conclusion
Voice Assistant AAC provides users with simple and convenient features when sending full-text content and attaching audio. This application is perfect for people with illnesses that affect their communication.
What's new
Minor improvements and fixes.
Images