Description
Subwoofer Bass increases the low frequencies of your devices native equalizer and actives bass booster .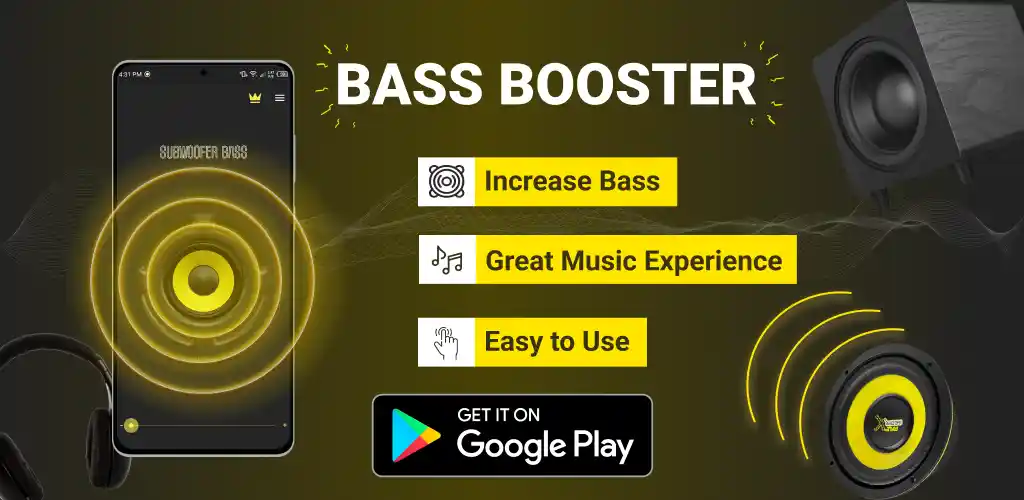 Features :
* Bass Booster
* Clearer, stronger, punchy bass sound
* Runs on background
* Supports platforms such as Spotify, Google Play Music, Soundcloud, Apple Music
* Supports all audio formats of your Music Player.
* Cool and user friendly interface
Please use external speakers or headphones for a better performance.
** Note : Any other application which uses an Equalizer at the same time, can effect or block Subwoofer Bass. We suggest you to STOP all other sound effect apps before using Subwoofer Bass.
What's new
Version 3.4.8
- Performance improvements
- Android 11 Support
** Please close any other sound effect applications before starting the Subwoofer Bass
Version 3.0.7
💥Loudness Enhancer
⚡️Force Initialize Feature
V2.0.0 - Beta
- Visualizer Frequency Graph
- Optional Orange Theme!
- Pulse feature
V1.2.0
- UI changes for material design
- Extra frequency pitches:
* Sub-Deep Bass
* Deep Bass
* Mid Bass
* Upper Bass
* Lower Mid
* Upper Mid
* High
Images