Developer
TarrySoft
Released on
Feb 18, 2020
Updated
Jun 12, 2023
Size
20M
Version
3.8.1
Requirements
5.1
Downloads
10,000,000+
Get it on
Description
Text Repeater – Repeat Text messages 10k times! Start the fun with this unique text bomber and repeater app! Send as many texts as you want – fast and easy! Entertain your friends and have fun!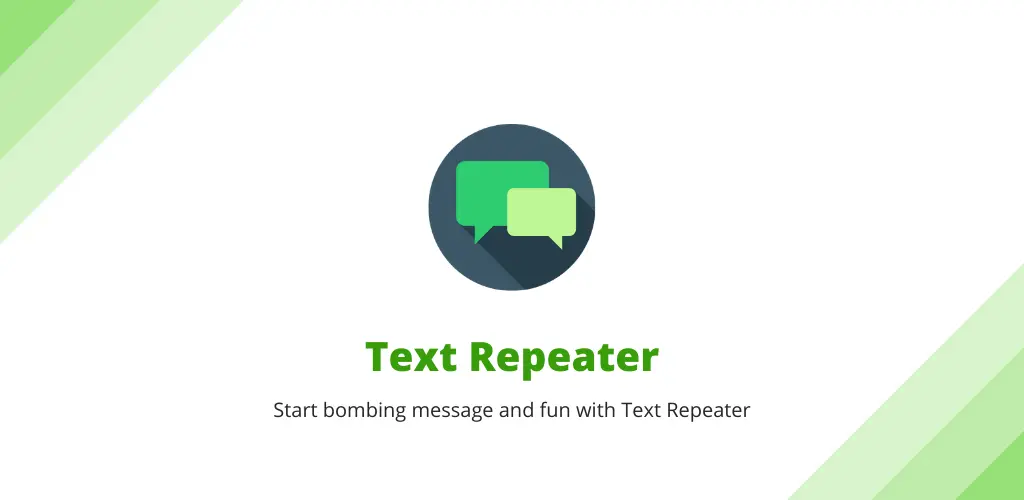 Are you bored from typing and repeating text again and again? Then, we are here for you; you only need to add text and repeat using Text Repeater App. That's it, and the fun starts with text spammer, our Text Repeater app. ✅
Text bomber gives you a better option to repeat text when you need it. Text Repeater supports text and other types of emoticons and formatting. You can create a unique text for your bombing messages and have fun with this text spammer. This text bomber is more fun for young boy-girls who always write texts repeating texting. You no longer need to write because our Text Repeater provides many features. Here are significant Benefits of the Text Repeater App.
➡️Easy to use ➡️ Fantastic Results!➡️ ✔️
🔥 Repeat Text up to 10,000 times.
🔥 Easy to repeat text. It's only one click.
🔥 Manage repeated text as per your needs and mood.
🔥 More fun with simple Functions.
🔥 You can add horizontal space, vertical space, or even add a new line in repeating text
🔥 Copy repeated text to forward.
🔥 Share repeated text everywhere from the text spammer app.
🔥 And many more.
We hope you like our Text Repeater App. It helps you and saves time. If you like our text bomber, rate us, and be free to give us suggestions.
So why are you waiting? Start bombing messages and surprise your friends with the Text Repeater app.
It is a special kind of text repeater to send bombing messages repeatedly. Also, you can set your repetition limit with new line text repetition. Using this text spammer, you can make bombing messages using the alphabet and emoji characters.
Very easy to use and requires few clicks for your message repetitions.
Only type one text and repeat it as often as you want with this unique text spammer.
You will be able to replicate emojis, not just text.
The Text Repeater app has the best functionality to repeat the text on your requirement. With Text spammer, you can add blank text, thoughts, cool fancy fonts, name Junction, quotes images, emojis, language translation, and random text. Text bomber supports much more than just text for repeating.
-Disclaimer
We don't send SMS, email, or other messages on the user's behalf without allowing the user to confirm the content and intended recipients.
Images