Developer
Digitalchemy LLC
Updated
Aug 1, 2023
Size
20M
Version
2.0.6
Requirements
7.0
Downloads
1,000,000+
Get it on
Description
Experience the ultimate time management tool with "Timer Plus with Stopwatch," a comprehensive mobile app designed to revolutionize the way you track and manage time. ⏱️ Digital stopwatch and timer is a simple, easy and accurate app for Android that will help you to measure the time of any situation, like sports, cooking, etc. With the time app, you'll enjoy the freedom of unlimited timers and a feature-packed stopwatch, complete with a lap function and a crystal-clear display.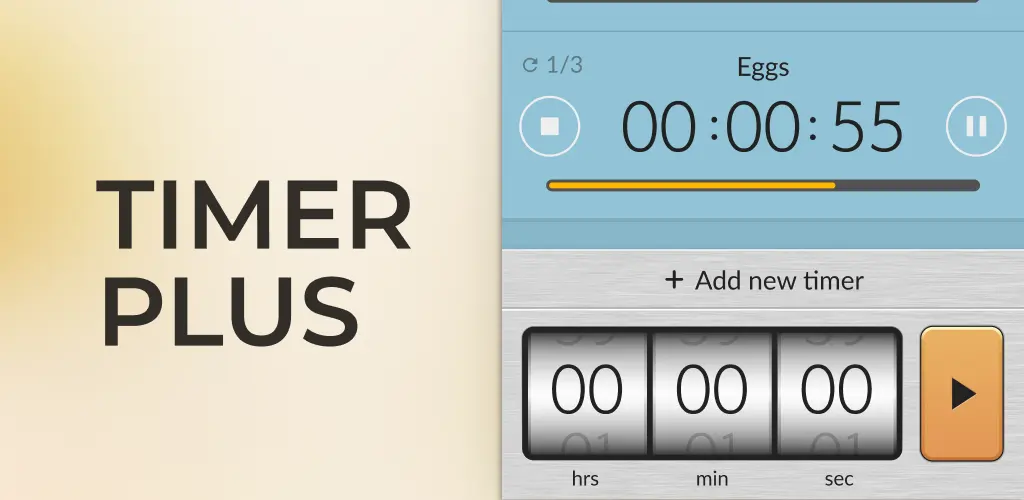 Timer empowers you with the ability to set up and manage multiple timers simultaneously. Whether you're working on various projects, organizing your daily routines, or simply need to time different activities, Timer Plus has got you covered. Take control of your time like never before.
🏆 But that's not all–timer also offers an exceptional stopwatch feature. 🤸‍♀️ Perfect for athletes, fitness enthusiasts, or anyone who needs precise timing, the stopwatch provides accurate measurements down to the millisecond. With the lap feature, you can track your progress and analyze your performance with ease. The clear display ensures you never miss a beat.
⏱ Whether you call it a "cronometro" or a "chronometer," timer with stopwatch caters to your timing preferences. This all-in-one app combines unlimited timers with a lap-enabled stopwatch, giving you the tools you need for optimal time management. No hidden charges or in-app purchases. Experience a seamless and enjoyable timing experience without breaking the bank.
📱 Personalize your timers and stopwatch with Timer Plus's sleek and user-friendly interface. Choose from a variety of themes and visual styles to match your preferences and create a personalized experience. Customize sound and vibration alerts to ensure you never miss an important timing event again.
💪 Timer is not just an app; it's your ultimate time management companion. Whether you're a professional looking to optimize your productivity, a student juggling multiple tasks, or a sports enthusiast striving for peak performance, timer with stopwatch is here to support you. Its powerful features, including unlimited timers and a lap-enabled stopwatch, make it the go-to app for effective time management.
Main advantages of free Timer Plus with Stopwatch:
⏯ Easy to start – just set the time and press play;
⏳ Unlimited timers or multiple stopwatch;
⏱️ Multiple timers;
🔔 Timer makes noise when it ends – no need to watch your phone;
⚪️⚫️ Differents themes;
⏲ Timer & Stopwatch displays in hours, minutes and seconds;
📊 Progress bar for elapsed time;
📱 Full lap display;
✅ Just one tap to switch between timer and stopwatch;
8️⃣ Display has large numbers and scrolling, so operating is easy.
No more searching for separate apps for timers and easy stopwatch. This free timer app and free stopwatch are your all-in-one solution for managing unlimited timers, utilizing the lap feature with a clear display, and making the most of your time. 🆓 Download the timer app now and experience the convenience and accuracy of a top-notch timing tool.
⏳Don't wait – get Timer Plus free with Stopwatch today and unlock the power of efficient time management!⏳
What's new
✓ Minor issues reported by users were fixed.
✓ Please send us your feedback!
Images