Developer
Disciple Skies Software
Released on
Apr 6, 2016
Updated
Dec 9, 2022
Size
8M
Version
1.51
Requirements
4.4
Downloads
100,000+
Get it on
Mod Info
Premium features unlocked
Optimized graphics/ zipalighned
Description
Walking Odometer Pro is a GPS odometer for walking and tracking and fitness app designed for outdoor use. Take it for a walk or run and it will accurately record your route, distance traveled, energy expended in calories or kJ, elevation changes, and more.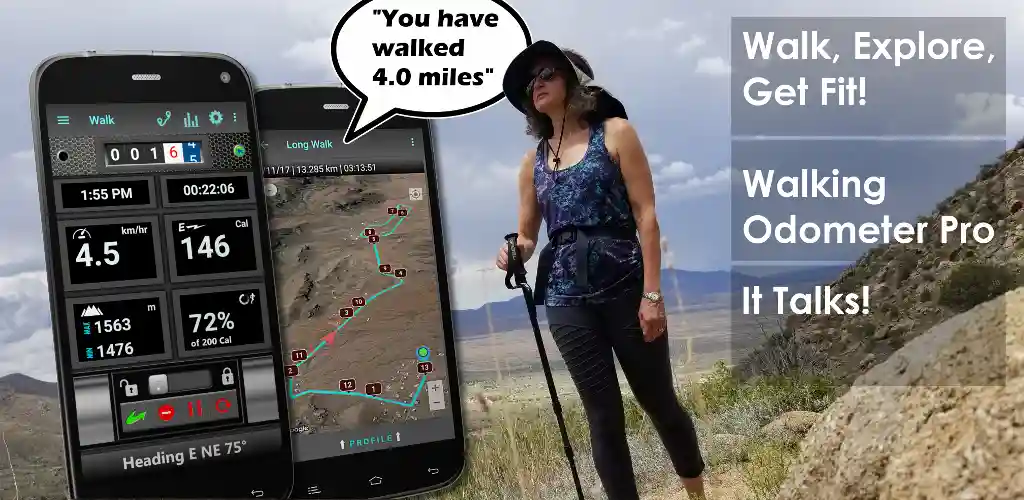 Unlike a step pedometer, Walking Odometer Pro leverages the power of GPS, and by doing so, is able to provide more accurate measurements for distance walked and calories burned than can be achieved with a simple step counting pedometer.
Set long term or short term goals for yourself to motivate you to walk or run to a better fitness level. Choose a calorie goal, distance goal or decide how many pounds or kilograms of fat you would like to burn, then view your progress during and after your exercises.
The application has a powerful data manager that allows you to sort and view your accomplishments by day, month, week or year. Or, view speed, altitude and distance profiles for any given recording.
The app is easy to use. Simply press the start button, close the app and begin your activity. Voice messages will be called out to you indicating your distance every 1/4 km or 1/4 mile.
The application's odometer is internally calibrated so there is no need for you to go through a lengthy trial-and-error calibration method.
If you need to interrupt your walk, you can pause an activity and resume it at a later point in time. Pauses and resumes are reflected on the trail map which will clearly show split distances and other stats.
There is a one-of-a-kind odometer on the first screen that shows your distance. The meter was modeled after the old rolling drum odometers seen in pre-digital era cars and functions the same way — the display actually rolls in real time as you walk / run.
Other features include:
Secure your data by backing it up regularly. Our backup and restore utility does not require any purchase or account activation. Backup / Export your accomplishments as kml, gpx and csv files. View exported data in Google Earth and other kml/gpx ready apps such as GPS Waypoints Navigator. CSV files can be viewed in spread sheet format by Google Docs, Open Office Calc, MS Excel.
All your data can be imported back into the app from your exported kml and gpx files should you need to replace your device.
No special accounts are required. Download and start using the app immediately.
Analogue or digital odometer for running or walking.
Calorie counter, chronometer and stop watch.
Heading and differential altimeter readings.
Speedometer.
Set calorie, kJ, distance and exercise duration goals.
Lots of ways to view your accomplishments. Reports include summary and detailed charts, maps and graphs.
Calculations for energy expenditure, basal and total metabolic rates use the latest techniques based on population studies of human oxygen consumption, CO2 production and human bomb calorimetry at rest and during exercise.
What's new
1. Performance improvements.
Images