Developer
androidslide
Updated
Aug 9, 2023
Size
36M
Version
7.9.4
Requirements
Varies with device
Downloads
1,000,000+
Get it on
mod info
PREMIUM features Unlocked
Note
After installing and getting Premium, go ahead and do
updates from Google Play to connect your watch.
Description
WatchMaker Watch Face is The largest watch faces collection and community in the world for Wear OS (Android Wear) & Tizen for Samsung Galaxy Watches.
Why do you keep buying different dials? Join millions of users who have already unlocked WatchMaker Premium by paying a one-time fee to access over 100,000 beautiful watch faces. With tons of new watches being introduced every day!! Get everything you need to mod and personalize your
Gear S2/S3/Galaxy Watch or Android Watch today!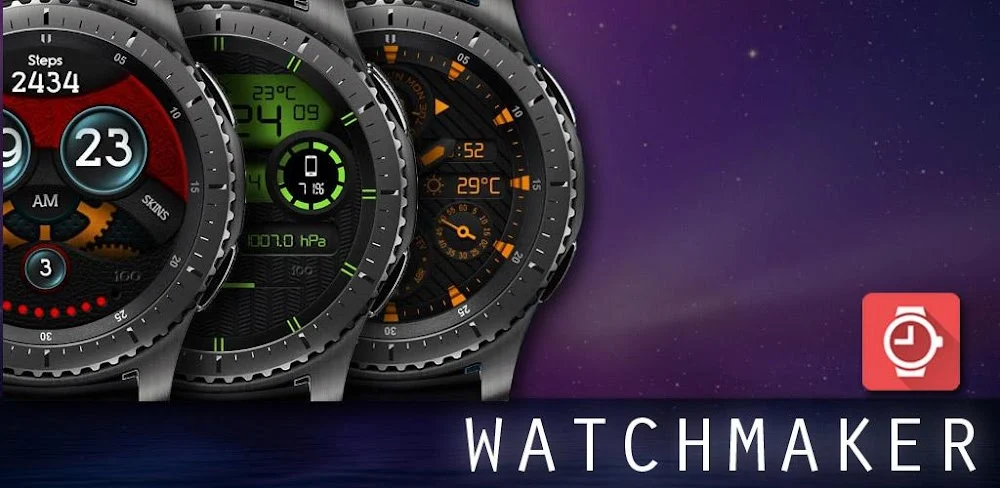 Features exclusive to WatchMaker:
• 100,000+ high-quality watch faces instantly available from our MeWe page https://bit.ly/2ITrvII
• 10,000+ watch hands and backgrounds in watch designer!
• Select a color to suit your mood!
• Create your own faces with the most powerful design tools available!
• Animated GIFs – Add custom animations to your watch face!
• 3d Gyroscope – Create an amazing parallax effect!
• Battery Protector – Automatically limit high brightness!
• Interactive Clock – Create hotspots to launch watch or phone apps!
• Animations – Create bright / dim / tap animations with 45 tweening functions!
• Calendar – Choose which calendars to show!
• Weather / Moon Icons – Add in 1-click!
• Countdowns – Days until your birthday, Christmas, etc!
• Cool Text Effects – Add glow, outline, and even flat shadow!
• 1-Click Widgets – Including battery (watch/phone) + WiFi widgets!
• OpenGL Shaders – Powerful rendering for watch segments, radars
• Free Watch Faces – 10,000+ watch faces from our huge MeWe community! http://bit.ly/wm-mewe
• Tasker – Full tasker integration
• Compass – Add a rotating compass or bearing
• Stopwatch – Why design a watch when you can build a stopwatch?!
• Multiple Time Zone – Set up to 3 custom time zones
• Heart rate and step counter for fitness
• Programmable Watches use our inbuilt LUA engine to make calculators, stopwatches, countdowns, and anything you're like!
• Complications – Step counter / Pedometer / Calendar + many more!
Also features :
• Very low battery usage!
• 100s of new watches each week!
• Weather Data
• Supports round and square faces
• Selection of analog and digital clocks!
• Get data from all phone sensors, accelerometers, etc.
• Compatible with all Wear OS watches (was Android Wear)
Supported watches :
• All Wear OS by Google (was Android Wear)
• Apple Watch
• Armani Exchange Connected
• ASUS ZenWatch (1/2/3)
• Casio Smart Outdoor/Pro Trek
• Diesel On Full Guard
• Elephone Ele
• Emporio Armani EA
• Fossil Q Explorist/Founder/Marshal/Q Control/Sport/Venture/Wander
• GUESS Ace/Connect/Cassidy/Jemma
• Huawei Watch (1/2)
• Hugo Boss Touch
• Kate Spade Scallop
• LG G Watch
• LG G Watch R
• LG Watch Sport
• LG Watch Style
• LG Watch Urbane (1/2)
• Louis Vuitton Tambour Horizon
• Michael Kors Access
• Misfit Vapor (1/2)
• Montblanc Summit
• Motorola 360 (1/2/womens/sport)
• Movado Connect
• New Balance RunIQ
• Nixon Mission
• Polar M600
• Samsung Galaxy Watch 1/2/3 + Active 1/2
• Samsung Gear S2/S3
• Samsung Gear Live
• Samsung Gear Sport
• Skagen Falster
• Sony Smartwatch 3
• TAG Heuer Connected
• Ticwatch 1/2/C2/S/E/Pro
• Tommy Hilfiger TH24/7
• Verizon Wear24
• ZTE Quartz
• Many more!
What's new
7.9.6
- Support for Galaxy Watch 6
Images