Winner Launcher is a Windows-style win launcher, it has many useful features and many cool themes, and it let you use your phone with Win 10 PC launcher experience. If you are looking for a computer-style launcher on your Android, if you like the new style of the win 10 launcher, then this computer-style launcher is for you!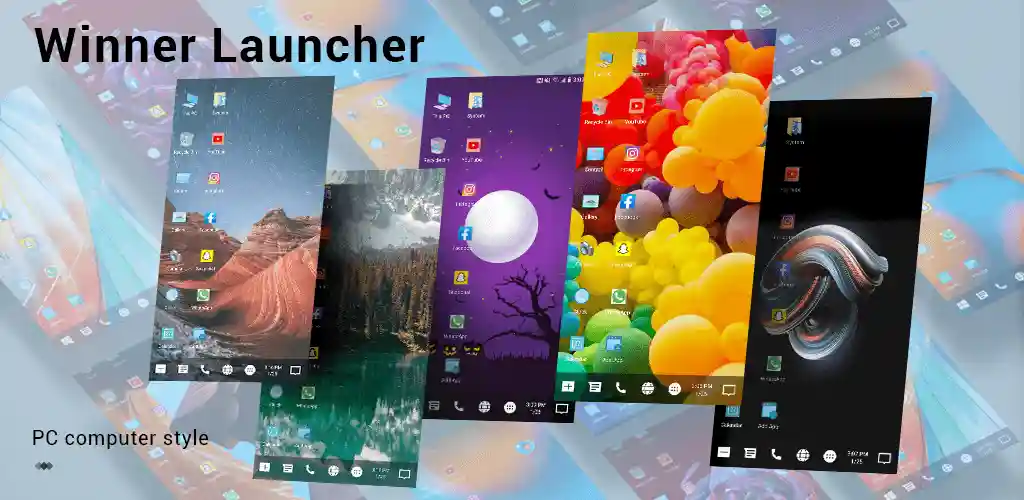 Notice:
1. Android™ is a registered trademark of Google, Inc.
2. Windows™ is a registered trademark of Microsoft Corporation.
3. Winner Computer Launcher is built to let our users use their phone like their familiar Win 10 PC, it is NOT Microsoft's products
4. *** Our app passes the security scanning of LOOKOUT, ESET, Google Play Protect, and www.virustotal.com ***
5. The file manager feature in this app use WRITE_EXTERNAL_STORAGE and READ_EXTERNAL_STORAGE permission
🔥 Winner Computer Launcher features:
+ Win 10 PC launcher style, provide your computer launcher experience
+ Win 10 windows style Start menu, support swipe up on the desktop to open the Start menu
+ Win 10 style easy & powerful file manager: List all of your storage, SD Card. Classify files to Pictures/Videos/Music/Doc/Zip. Support cut, copy, paste, move, share, etc
+ Winner Computer Launcher has 200+ themes
+ Winner Computer Launcher supports almost all third-party icon packs
+ Winner Computer Launcher has 50+ cool live wallpaper
+ Support auto-put used apps to desktop and remove the rarely used app from desktop
+ Support changing the color of the taskbar, icon label, etc.
+ Support change icon size and customize your desktop
+ Winner Computer Launcher has a widget page for you to put the widget
+ Winner Computer Launcher support creates a folder on the desktop
+ Winner Computer Launcher support show recent apps folder on the taskbar
+ Easy navigation to the all apps list
+ Pin the app to the Start screen
+ Icon label shadow
+ Transparent taskbar
+ Action center
+ Calendar built-in
+ Life at a glance
+ Quick settings
+ Hide apps
❤️ Thanks for using Winner Computer Launcher, your comments are welcome!