WomanLog Pro Calendar is an excellent choice to track your menstrual cycle and your period. Extremely reliable. Very helpful. Easy to use. The WomanLog app offers great features to track your cycle and period.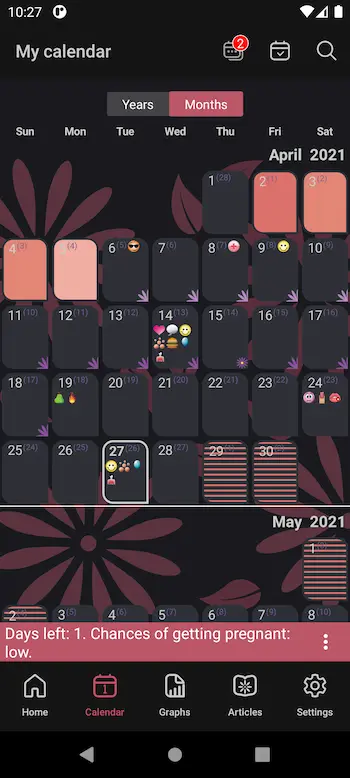 Key features:
Period tracker for both regular and irregular cycles.
Period, fertility, and ovulation forecast. Standard and advanced mode (based on the previous cycle data and depending on the fluctuations of the cycle length during the previous months).
Over 100 symptoms, other options like weight, BBT, moods, pills, sex life, cervical mucus, graphs, and much more.
Various daily reminders: Menstruation, Ovulation, Weight, BBT, Multivitamin pill, Breast self-exam, Contraceptive pill, Vaginal ring,
Contraceptive patch, Contraceptive injection, IUD.
Sharing data with your partner and data sync between multiple devices.
Google Fit support
More options:
Password protection
Pregnancy mode
Tracking multiple calendars
WomanLog Pro:
Cervical mucus monitoring
Cycle Overview (Send PDF file to an e-mail)
Note + Event time + Reminder
Moon phases
Ovulation test
Pregnancy test
Blood pressure/Pulse
Skins (30)
No ads
SUBSCRIPTION INFORMATION
Additional features provided by Intelligent Assistant:
* Much more detailed forecast of the first day of menstruation. More variants with probabilities of when your period might start.
* You will see the probability percentage of your fertile days. This will allow you to plan much better or prevent pregnancy.