Developer
Erabit Studios
Released on
Sep 5, 2022
Updated
Nov 29, 2023
Size
75M
Version
3.4
Requirements
6.0
Downloads
50,000+
Get it on
Mod Info
MOD MENU
✶ Unlimited Money
✶ Unlimited Bullets
Description
20 Minutes Till Dawn is a Van Saba type shooting RPG that combines the characteristics of guns and heroes with skill builds to strengthen attacks. By releasing them, the types of heroes and guns will increase, and you will be able to choose various attack methods. Although the enhancement level of the skill is small, the power-up degree of one stage is extraordinary. Furthermore, let's defeat the enemy at once with powerful advanced skills that can be obtained by combining skill builds!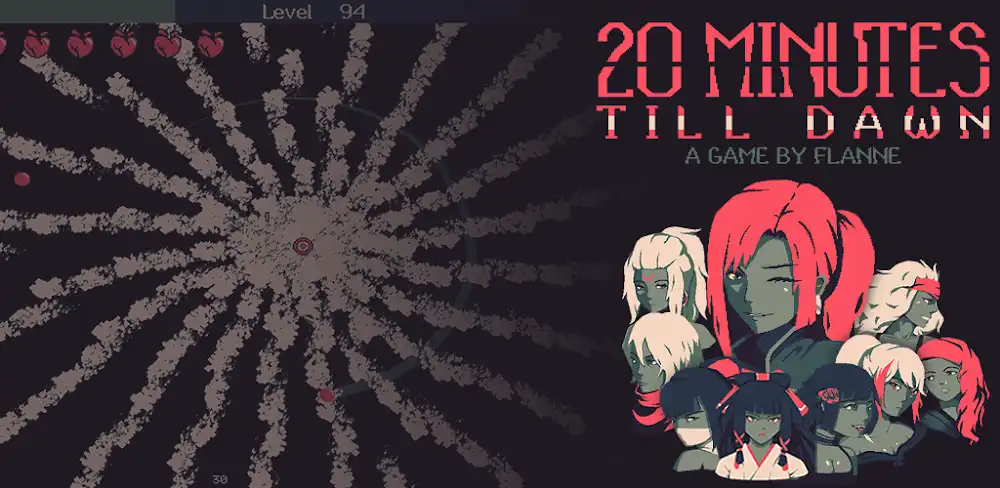 Survive the onslaught of an endless horde of monsters for 20 minutes!
20 Minutes Till Dawn is a ghoulish and challenging shoot 'em up.
You can choose incredible weapons and characters to survive untill dawn. This survival game pits players against an endless horde of enemies from Lovecraftian mythology.
【Quickplay Mode Can Be Fun】
Every round can be uniquely satisfying to fight creatures of the night and defeat them with a simple run and gun strategy. Experiment with new characters and their special abilities to gain an advantage over the ghouls that haunt the game.
【Try Different Characters】
There are over 10 distinct characters in the game.Each character in this game has a unique appearance and is gifted with abilities that make your adventure unpredictable to survive till dawn. You can start the game with Diamond to get higher defensive capabilities to survive longer in battle since Diamond has high HP, you can also unlock Scarlett to burn enemies with a wave of fire that deals damage per second.
【Pick Upgrades That Build On Weapons】
There are a variety of tactics to survive based on the weapons you choose. An upgrade is available right after collecting enough XP to level up. For example, the Quick Hands upgrade can be used frequently with the weapon Flame Cannon to deal dangerous amounts of damage to enemies at an increased fire rate, and the Holy Shield upgrade can be used with the crossbow to devastate enemies at long range. The Holy Shield can also regenerate, giving players adequate time to reload between fights.
【Keep An Eye On Synergies】
You can click the "II" button in battle any time to check synergies at any time & choose the right upgrade tree to unlock outstanding combinations of upgrades to gain additional bonus! For example, Mini Clip is a synergy that requires Fan Fire and Fresh Clip upgrades. It decreases the reload time and increases damage, making it easier to survive the monsters without getting hit while reloading weapons.
【Don't Forget The Sword Runes and Shield Runes】
Sword runes can inflict critical damage and it can greatly enhance the offensive capabilities of characters.And the Shield runes in 20 Minutes Till Dawn can be used to protect players in dire situations. Selecting the right runes strategically can help you survive longer in battle.
【Contact Us】
Discord:@20 Minutes Till Dawn
Twitter:@erabit_studios
Facebook:@Erabit Studios/@20 Minutes Till Dawn
Email:[email protected]
What's new
Fixed bugs for an improved gaming experience.
Images