Developer
Frenzy Games Studio
Released on
Oct 18, 2019
Updated
Oct 29, 2023
Size
100M
Version
12.4
Requirements
5.0
Downloads
10,000,000+
Get it on
Description
Introducing Anti Terrorist Shooting Mission – a game that will change your experience of FPS shooting games. You can shoot freely and there is no limit to the game. Dive into the exciting world of this free shooting game where you battle against AI enemies on the tough streets of Dust Town. Get ready to go on an exciting adventure as a special soldier who has been trained by artificial intelligence. Your mission is to stop terrorism and bring peace back.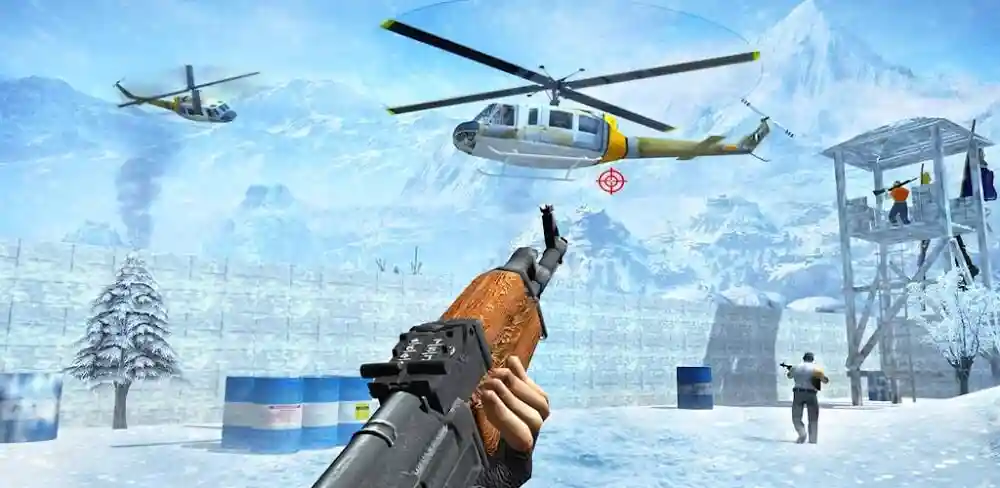 This Anti Terrorist Shooting Mission game is designed to make your free time exciting with its addictive gameplay and a wide range of modern war weapons for you to use. When you go to the front lines, focus and shoot a lot of bullets at the terrorists who are blocking your path. You will use shotguns, pistols, assault rifles, and grenades to complete missions as a commando.
Experience the excitement as you move through snowy terrain, engage in intense fights, and come out as the hero of the Snow Time missions. With accurate aim and excellent shooting skills, you will defeat all the terrorists in your way, making it clear that you are the strongest person against bad guys.
But the activity doesn't end there. This game is an exciting shooting mission against terrorists in the City of Sin. It's not like regular games, it keeps you thrilled and engaged. Take part in various real-life killing missions, each having different challenges that will test your skills and combat abilities. Choose from a wide variety of guns and enjoy the detailed battlefields, where every shot matters.
Try out AI-based multiplayer shooting games that offer you the chance to play against skilled opponents in exciting multiplayer levels. The Clash Squad gameplay is very enjoyable, and our shooter games are highly praised for people who want a thrilling multiplayer experience. Every day, push yourself to be better, fight against your opponents, and become stronger in a constantly changing battlefield.
The graphics in Anti-Terrorist Shooting Mission are stunning. Get lost in a virtual world that looks incredibly real and is designed to give you the best gaming experience. With really good sound effects, you'll feel completely involved in the exciting atmosphere, and your heart will race with every gunshot and explosion.
This shooting game does not require internet connection and has an easy-to-use and responsive control system for shooting guns. You can enjoy the game without any distractions and fully immerse yourself in the excitement. The interactive place keeps you alert and excited, with unexpected and difficult things happening all the time. Get ready to be amazed by the fun gameplay, where every second matters and every choice could determine if you win or lose.
Get Anti Terrorist Shooting Mission app now and get ready for an exciting adventure packed with action, planning, and excitement. Try out the most enjoyable first-person shooter games, filled with offline amusement and endless battle royale thrills.
Key Features:
– Immerse in an Offline & Free Shooting Game like no other
– Choose from a vast selection of Multiple Modern Weapons
– Immerse yourself in Realistic 3D Graphics that bring the game to life
– Engage in thrilling combat across Multiple Battlegrounds
– Conquer Realistic assassination missions with precision and skill
– Unleash the power of a huge range of Assault Rifles
– Lose yourself in the intricately detailed and Classic battlegrounds
– Immerse in Good Quality Sound Effects that enhance the atmosphere
– Get addicted to the Action-Packed Gameplay of this FPS Game
– Enjoy a Simple & Smooth Gun Shooting Control System
– Immerse in an Interactive Environment that keeps you engaged
Anti-Terrorist Shooting Mission is available for download on the Google Play Store. Step into the shoes of a fearless commando and rewrite the rules.
What's new
- Daily Shooting Tasks
- Shooting Sound Effects
- Gun Cursors
- Tanks Battle Game
- Explosive War Machines
- Boss Missions
- Gun Ship Helicopters
- Improved Enemy Shooting Skills
- Zombie Shooting Mode
- Multiplayer Shooting Mode
- Game Optimization
- New Snow Shooting Environment
- Improved Last Bullet Effect
- Each Gun have Unique Bullets
- Improved Muzzle effect
- Boss Missions
- Improved Weapons Collection
- Helicopters in Endless Shooting
- Robot Enemies
Images