Developer
Eco Mobile
Updated
May 11, 2023
Size
10M
Version
2.0.232
Requirements
5.0
Downloads
1,000,000+
Get it on
Description
Big Font – Big Text Size: Change the font size exactly as you want. Change the text size is a free app for helping all people to read the text more easily and quickly for all android devices.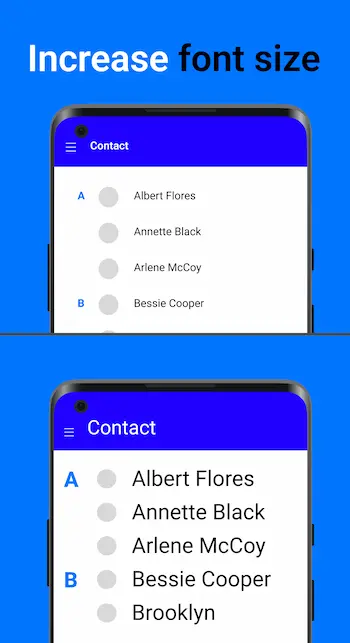 Does the default system font look too small and hard to see clearly? Or maybe you have eye issues and you want to enlarge font size, you want to see big text, big font for your phone display screen. Don't worry, this is the perfect solution for you with JUST 1 CLICK and you can completely change the text size correctly!
Big Text features
• Change big font – FREE
• Very simple interface
• Easy to use small or enlarged font size for your phone
• Preview the exact percentage increased before applying
• Restores default font size with only 1 touch
• Big font – Perfect app choice for the elderly and those who have difficulties reading small text and people who want to have big text for themselves or their relatives.
Big Font – How to use:
• Open Big Font – change font size
• Look through the preview text size for the selection
• Choose the text size by touching the button "Apply"
• Touch the button "Yes" to apply this change
• Now you have found the suitable font size, close the app
• Lastly, RESTART YOUR DEVICE and Enjoy the Big text!
Change the text size quickly and easily now. Let's Adjust Font Size and improve your mobile user experience. If you are interested in helping us to widespread this app to help old people or people who have eye issues to have a better mobile user experience, you can rate 5 stars for this app and share it with your friends.
Big Font – Big Text Size app is under development and completion. Eco Mobile's product development team is eager to bring you a chance to the text size app with good features and experience for you.
Images