Boostify is a powerful speed booster, RAM cleaner, and battery saver. This app will improve your phone's performance and extend battery life. Just via one touch, Boostify will optimize and speed up the phone by closing all running apps and freeing up RAM. Your phone will become smoother and faster.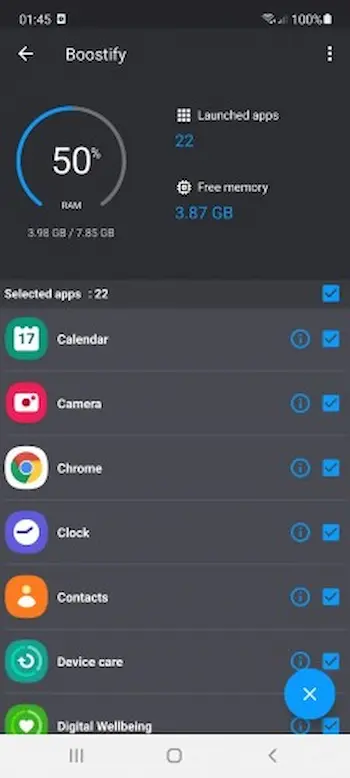 ⭐Features⭐
🧹 RAM cleaner
Boostify optimizes your phone memory by freeing up RAM, and making space for new apps.
🔋 Battery saver
Boostify helps to save battery power and extend its life by closing running apps and minimizing power usage.
🚀 Performance booster
Boostify can instantly optimize the performance of your phone, and speeding up your phone.
❄️CPU cooler
Boostify helps cool down the temperature of your device by stopping overheating apps.
🎲 Game booster
Boostify will automatically optimize the performance of your games by unleashing your phone's full potential.
🚀 Lag remover
Boostify helps remove lag in all apps.
🚀 Task killer
Boostify is a very powerful task killer that closes all running apps and processes.
❌ Force stop apps
Boostify can force stop both user apps and system apps.
🔥 Fast and Simple
Boostify is a simple and user-friendly app that allows you to clean and optimize your phone, just by tapping one button.