Description
Meet Bubbu, your new virtual pet. He is a cute, emotional and adorable cat who loves to eat tasty food, take selfies, visit friends and dancing. Have fun at Bubbu's home and find out other secrets about your pet's life. He will surprise you for sure! Explore Bubbu's colorful world with many adventurous activities!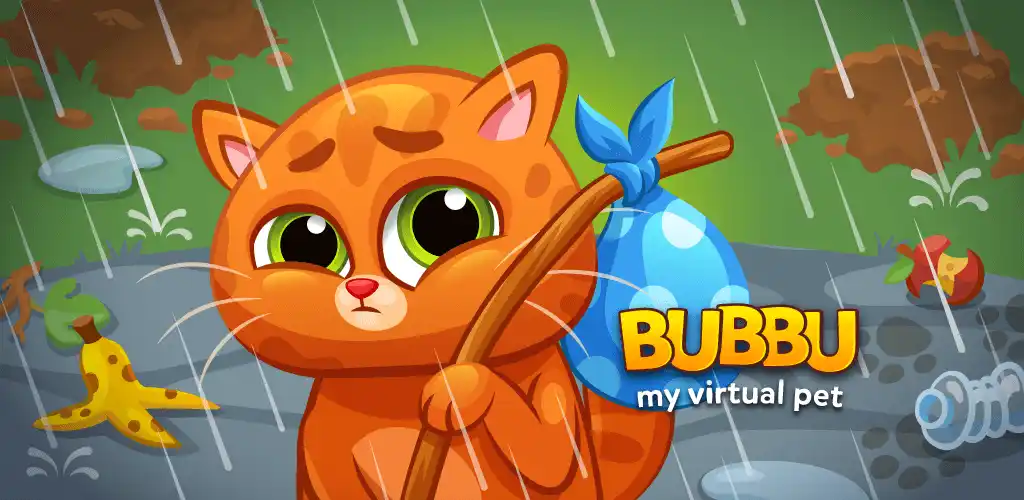 • Bubbu is waiting for you to be fed, dressed, cuddled and bathed. This lovely cat needs your love and attention every day, so take good care of him from morning to midnight. In one word, make sure your kitty is always happy and smiling, but never hungry, sleepy, sick or bored.
• Take Bubbu to the animal hospital and test your vet skills as a doctor in a modern pet clinic. Visit also spa and beauty salon, there are so many fun jobs you can do! Enjoy beauty and nail salon games like pet manicure, face care and funny bathing, or just go to the cosmetic dentist with your cat. Bring joy to your fluffy pet with stylish makeovers from head to toe in the hair salon where you can become a makeup and hairstyle expert.
• Take Bubbu to the funky showroom and dress him up stylishly. Also don't forget to make a dream house for your lovely pet. Customize and decorate it with an awesome collection of furniture to make kitty's home beautiful, warm and cozy.
• Over 30 fun mini-games will provide you with food or with coins to buy items for your virtual cat. Have fun playing Catcher, Cat Connect, Find the Cat, 2048, Paint the Cat, Jump, Pop Balloons, Cheese Builder, Fish Ninja, Cat Sings, Nightmare, Jumping Cat, Diver, Stick Ninja, etc.
• Spin the wheel of fortune every day, complete daily challenges and explore friends' houses to get some extra rewards. Finishing achievements gives you free diamonds to buy something special for your pet!
• Bubbu's land offers you tons of activities. Customize Bubbu's house into a lovely cat villa. You can grow organic food in the garden and milk a cow everyday as a real farmer. Pimp your cool car and get ready for a hill ride. Take a walk to the seaside and fish or go diving. You can go to the city or even travel into space by rocket to defend your planet against alien invasion. Play football and basketball, pass across sea rocks or climb up the tree. Try to change between day and night and enjoy listening to the sounds of mother nature.
So, come on, what is keeping you? Adopt Bubbu and make him the happiest virtual cat ever!
This game is free to play but certain in-game items and features, also some of those mentioned in game description, may require payment via in-app purchases which cost real money. Please check your device settings for more detailed options regarding in-app purchases.
Monthly Subscription: This subscription automatically renews every month unless you turn it off at least 24 hours prior to the end of the current subscription period. You can manage and cancel your subscription any time via Settings in your Google Play account.
The game contains advertising for Bubadu's products or some third parties which will redirect users to our or third-party site or app.
This game is certified compliant with the Children's Online Privacy Protection Act (COPPA) by FTC approved COPPA safe harbor PRIVO. If you would like to know more about the measures we have in place for protecting child privacy please see our policies here: https://bubadu.com/privacy-policy.shtml .
Terms of service: https://bubadu.com/tos.shtml
Images