mod info
Premium features unlocked;
Disabled / Removed unwanted Permissions + Receivers and Services;
Analytics / Crashlytics disabled.
Description
Car Dashdroid is a car home dock replacement that makes driving easy, while providing the best infotainment on the Play Store. Includes Whatsapp, Telegram and facebook messenger reply integration, you can listen to incoming messages and reply without touching the device, start/stop the app using Bluetooth and return from any app to the specially-designed Car Dashdroid homescreen with a press of the Home button while connected (see settings).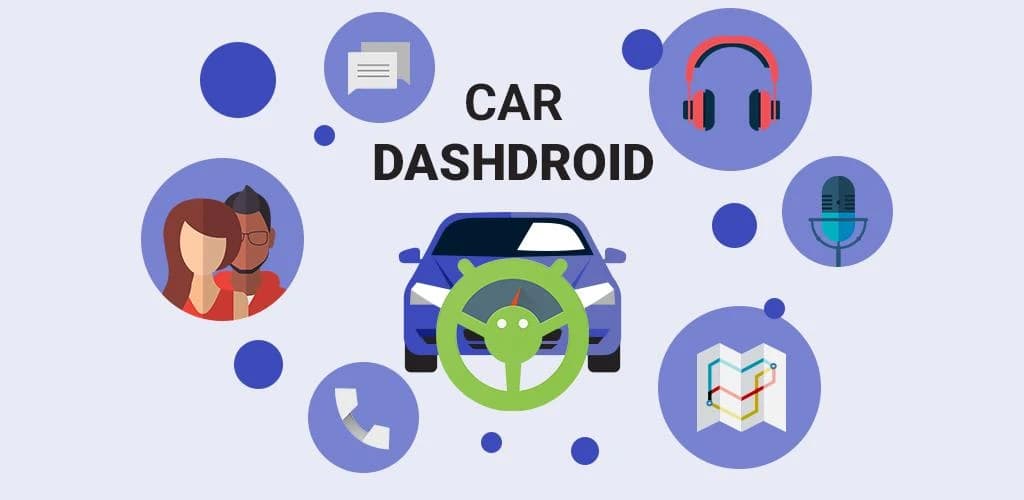 This app is very useful for drivers in Uber or Lyft.

 Keep your eyes on the road! You'll never get distracted by your mobile again, with large buttons and full voice commands ("OK Google" hotword is supported. 

With 3 main sliding panels (you can set up more) you can easily swipe between the dialer, main dashboard and custom shortcuts.
Car Dashdroid's built-in Smart Dialer means you won't have to search for your contacts anymore; just type the contact number or name to dial, or use the build-in Dial Action feature to dial your favorite contacts with one touch.

Set up more than 40 shortcuts for your favorites apps, contacts, and even shortcuts to custom actions like directions to a particular place, opening a specific playlist, or sending a pre-written message (like "On my way!" or "Stuck in traffic!").
Car Dashdroid has built-in music features, allowing you to play your music with a special widget for controls and track details, all without exiting the app (an updated music player will be available soon).
This is simply the perfect pair for your device and car!
Car dashdroid Features
* Read out loud SMS and fast reply using voice commands
* Whatsapp, Telegram, Facebook messenger ready
* Home button returns you to Car Dashdroid main screen
* Car mode
* iBolt
* Icon Packs – supports most popular icon packs from launchers like Nova, Go, Apex etc
* Group apps in folders
* Google navigation
*OK Google Voice command support
* Intuitive music controls for several players (Spotify,Play Music, Pandora, Poweramp,
and others)
* Speedometer (km/h and mph)
* Compass
* Themes day/night based on sunrise/sunset
* Start/stop the app on Bluetooth connection
* Turn off wifi on start
* Turn On bluetooth when the app starts
* Current weather and temperature in Celsius or Fahrenheit
* Full screen mode
* Car home replacement
* Battery widget with percent
* Screen saver
* Manage UI Screens, change or delete the UI screens
* Call log for easy access to your recent calls (All and missed)
* immersive mode in full screen
* Shortcuts
* Smart dialer
* Contacts (shows favorites and all contacts)
* Voice commands without exiting the app (for navigation, finding places, or calling contacts)
* Dial Action for calling starred contacts with one click.
*Music Player with playlist, album browser, song browser support
* Music Player widget to control media playback
*Gorgeous design based on Material Design
* Lock screen rotation (lock the orientation to landscape and portrait, as well as 3rd party apps)
* Settings control widget (modify brightness, orientation, theme, full screen, bluetooth with one click in main screen)
* Set phone multimedia sound level
* Keep screen on, never turn off the screen again when you are driving
* Use speaker on phone calls
*Colourful Themes
What's new
* Updated libraries and SDK version and some bugfixing
* In some weeks/months a new re write of the app will be done so soon you can have same UI but better.
Wait for Car dashdroid 4.0 ;)
Images