Description
The most precise, accurate and smart compass or GPS compass for android. Digital Compass Pro MOD APK is an accurate compass and a great tool for any outdoor activities.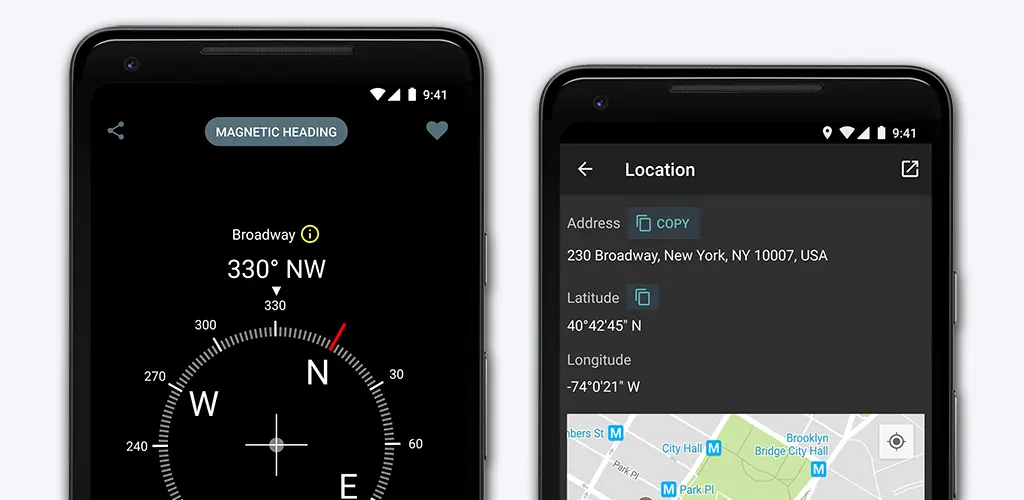 This compass app allows you to find the direction (bearing, azimuth or degree) you currently facing. It is very useful or muslim prayer to find the Qibla(Kiblat). Beside, there is still many way you can benefit from having digital compass app pre-installed in your device.
Digital compass build using the gyroscope, accelerator, magnetometer, gravity of the device. Make sure your device has an accelerator sensor and magnetometer sensor otherwise digital compass will not function.
Digital Compass Pro MOD APK Feature:
– It is a free compass
– Display highly accurate direction
– Display the current location(longitude, latitude, address)
– Display the altitude
– Display magnetic field strength(EMF)
– Show the slope angel(Slope Level)
– Show the current accuracy state
– Show both magnetic north and geographic north(true north)
– Show all available sensor status on this device
– Add a direction pointer marker
What's new
Version 10.6
- Bug fixed from previous update
Images