Developer
DYNAMICNEXT
Updated
Dec 15, 2021
Size
30M
Version
0.7.52
Requirements
4.4
Downloads
1,000,000+
Get it on
Description
Downtown Mafia is the best CLASSIC Multiplayer Mafia Wars RPG with in-depth Strategy features. Addictive text based Mafia RPG with GANG WARS, TURF WARS, BOSSES, MERCENARIES, HIT-LIST, CITIES, MISSIONS, FIGHTS, TOURNAMENTS and lots more.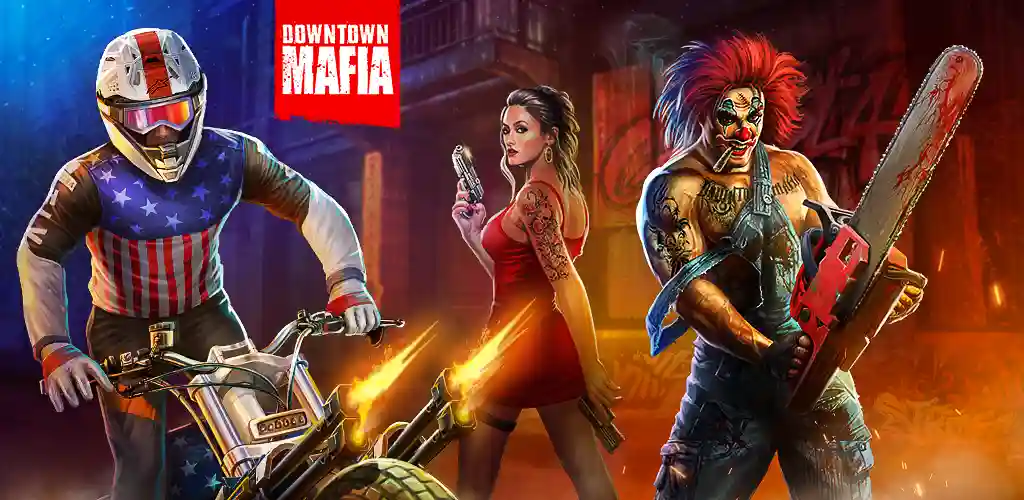 Classic retro Text based BBS RPG game.
This is how Mafia really Works
Join now and become the biggest Godfather in Mafia City.
#1 Mafia Game on the Store
(More than 1.5 Million downloads in Android)
Downtown Mafia – Live to Fight, Fight to Win!
– – –
Story: A legend returns back to reclaim his old hood… and this time he is gonna take it all. You have Jane (your old flame), Marco (the weapons guy), Luke (he knows his business) and BIG JIM to help you take over the hood.
Game Features
– – –
DTM is one of the most feature rich and diverse mafia RPG ever created. It offers players a unified gaming experience, whether you are on Android devices, iOS, Facebook, Chrome-Store or on your browser, this allows you to run your same pocket gang empire from anywhere.
★ Be what you wanna be, HUSTLER, RUNNER or FIGHTER and build your criminal empire.
★ Master gang MISSIONS (Jobs) in various cities around the world.
★ Become a big time gangster, FIGHT other mafia bosses across other devices and platforms in real-time.
★ HIT LIST your enemies for a sweet revenge.
★ Gain experience in the gangstaz crime city and progress through UNLIMITED LEVELS.
★ Recruit your mob members, BUY new WEAPONS, VEHICLES, ARMOURS and SPECIAL items to arm up your team.
★ Earn unique crime REPUTATION (achievements) for reaching specific goals.
★ Earn SKILL POINTS, upgrade your ENERGY, STAMINA and ATTACK/DEFENCE POWERs rule the Streetz and build your own crime story.
★ Unlock new and exciting missions, powerful weapons and money minting businesses/properties at higher levels.
★ Add your favorites to your CRIME FAMILY to keep them close.
★ Defeat BOSSES at LEVEL 21 and collect them as your heroes / boss Mercs.
★ RIVAL LIST keep tab on your enemies and claim back your honour.
Game Features (GANGS)
– – –
★ Join powerful GANGS and rule the TURFS as a team.
★ Chat with your GANG and equip powerful GANG ARSENALS
★ Engage in GANG WARS and win exciting war rewards.
★ Earn Gang's respect become the GANG BOSS… Or start your own GANG and recruit your members build a new team
★ Capture other GANG TURFS and assign your own Operator to collect hourly payouts send to all your gang members.
★ Capture other GANG OPERATIONS to collect payouts
★ Join DEATH MATCHES to war 3 other GANGS simultaneously… winner takes all the rewards.
★ Send and receive powerful GANG BACKUPS.
★ Find matching gangs with HIT N RUN.
★ Fight automated BOSS GANGS and win exciting rewards and new GANG ARSENALS.
★ Use FREE HITS to revenge rivals who messed with your gang members.
★ Grow your GANG into Cartels.
★ Take part in weekly TOURNAMENTS and win respect in the game for your gang and yourself.
Account
– – –
✔ Sync your account with Facebook, Google, Google Play Games login
✔ Custom Avatars with Gravatar
✔ In-game player profile & live comments.
✔ Live leader boards (Mob-level and Global) to see were you stand against the rest of the players.
What's new
VERSION: 0.7.52
- Fixes and Improvements
VERSION: 0.7.45
- Facebook SDK updated
- Other fixes and improvements
VERSION: 0.7.30
- Improved Rendering performance
VERSION: 0.7.12
- Improved Attack List with better random opponents
- Updated Facebook, Google integrations SDKs
VERSION: 0.6.80
- Push notification fix for android 8.0+
- Latest FB SDK with security updates
VERSION: 0.6.55
- Introducing Attack Power Ratio in Fight Result
- Introducing new Countries, Assignments & Bosses
Images