Description
With Edge Screen – Edge Gesture & Action your personalize and create your own edge screen features on any phone. Also with lots more features like you can add a contact to make a call directly from edge screen or you can direct do a math function on edge screen calculator. And you can compare time using World Clock or open website in one go. All these features can be done in just one click. Set daily Alarm and a quick look at calendar events just by using sidebar which opens with a gentle sliding edge gesture.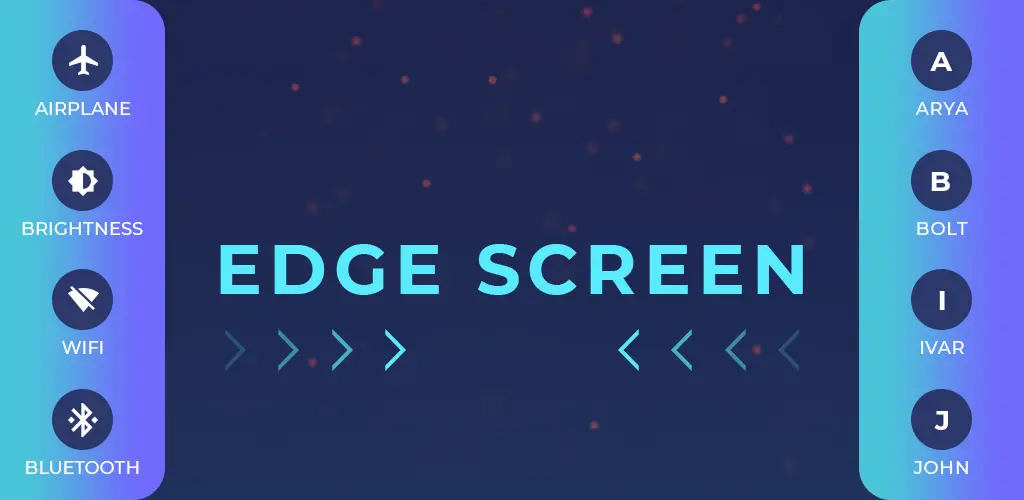 Which Edges can be added in the Edge sidebar :
• Application
• contact
• calculator
• world clock
• quick setting
• browser with URL
• alarm
• social apps
• calendar
=> Application – Just add your favorite application or most used application in this edge and open that from wherever you want by just sliding sidebar and clicking the app icon.
=> Contact – Add frequently contacted person numbers here. Those can be your parent, best friends or loved ones
=> Calculator – A simple calculator helps you do some math calculation.
=> World clock – A world clock is a clock which displays the time for various cities around the world so here we can add clock and compare time easily.
=> Quick setting – Some device-related setting like lock phone, split-screen, power button, quick setting and many more.
=> Browser with URL – Open browser with the desired URL and also user can add his/her link and access it.
=> Alarm – Set the hour and minute for the alarm clock. The alarm will appear and the default sound will be played at the set time.
=> Social apps – We will pick some social apps from all of your apps and group it out for you to quick access your social on the go.
=> Calendar – Import all the events from your calendar and display it with time. So you won't miss your schedule anytime.
Depending on the functionality of our app, you may need to grant certain permissions. The permissions are solely used for the app's functionality and we don't collect any personal information.
# Permissions
• read contact – to read all of your contacts so you can add it to sidebar panel easily
• phone call – to call the person user had added in the edge panel
• calendar – to read event from your calendar and display in the edge panel
• system alert window – to show the side panel so a user can access it from anywhere
• accessibility service – to perform some functionality like lock device, use split-screen and many more
• foreground service -to show panel even if an app is not running
Download this app for free and let us know about your experiences using this app. and also tell us how can we improve this app by giving reviews and suggestion
Images