Developer
System monitor tools lab - Cpu Ram Battery
Updated
Aug 14, 2022
Size
5.6M
Version
9.0.1
Requirements
4.1 and up
Get it on
Description
Game Booster is the fastest game booster available. With only one touch, you can improve the performance of your smartphone. Automatically optimize the CPU, RAM, and many other components for gaming and maximum performance!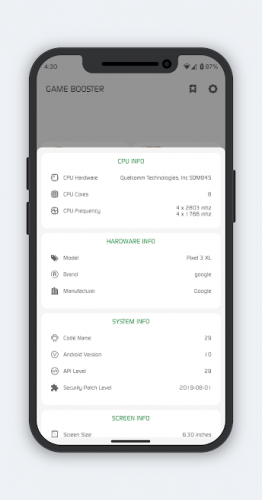 What Game Booster can do for playing the game:
Game Booster will allow your Android smartphone to function at its peak. You should test it right now if you want to know what your gadget is capable of at its full capacity!
Game Booster is a background service that improves your smartphone for gaming. With only one click, it manages the sophisticated
Linux CPU management and offers you maximum performance!
Any program can benefit from Game Booster's memory optimization!
CPU monitor: displays the temperature and frequency of the CPU in real-time using a curve table. As a phone cooler, it can assist you in lowering your CPU consumption.
Analyze memory consumption, clear the ram, and speed up your phone using this ram analyzer and booster.
Battery monitor: displays battery use as well as temperature. Keep an eye on the battery's health, power status, voltage, and level.
Temperature overheating alert and protection, Game Booster will sound an alarm if the CPU or battery temperature exceeds a certain threshold; you can choose whether to open or close the overheating alarm.
Floating window: Floating windows, such as the status bar floating window and the desktop floating window, show the CPU temperature, battery temperature, and ram use in real-time.
Multi-Theme: Game Booster is very beautiful and supports multi-theme switching, you can choose the theme you like.
So, what do you have to lose? Download Game Booster to boost your phone's performance and make it easier to play games.
What's new
The completely new design for version 9.0.
Images