Watch IPTV from your service provider or free live TV channels from the WEB. You need to use your own IPTV list to watch channels. I suggest to install VLC for Android, or better, MX Player if the default Video Player is not able to Play streaming video.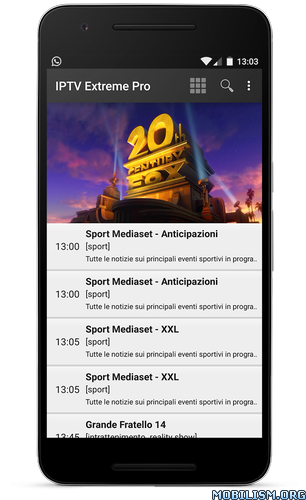 IPTV Extreme Pro Features:
– Integrated Player (Advanced & Light)
– Chromecast Support (Beta)
– Parental Control
– Remote Controller support
– Backup / Restore Settings
– M3U playlists support
– Multi EPG support (TV Guide)
– Auto EPG update
– EPG alias management
– All the EPG providers are included
– Picons support in different size
– Ability to download On Demand Programs!
– Ability to record Live Streaming with time limit!
– More than 10 Themes availables!
– Time Recording
– Timers Management
– Autostart On Boot Function
– Set Memo function for Events on TV Guide
– Search for Similar Events on TV Guide
– Sliding EPG time
Additional features are available in Pro version:
– Ad free
– A big thanks from me 🙂
Setup instructions:
* First you'll need to add a Playlist by inserting m3u link or select a previously saved playlist file.