Developer
BP Mobile LLC
Released on
Dec 14, 2016
Updated
Nov 24, 2023
Size
70M
Version
5.24.17
Requirements
9
Downloads
10,000,000+
Get it on
Description
iScanner is a #1 advanced scanning tool to create ideal-looking documents by scanning on the go fast. iScanner allows for working and studying anywhere effortlessly, even if you don't have access to a laptop or a scanner.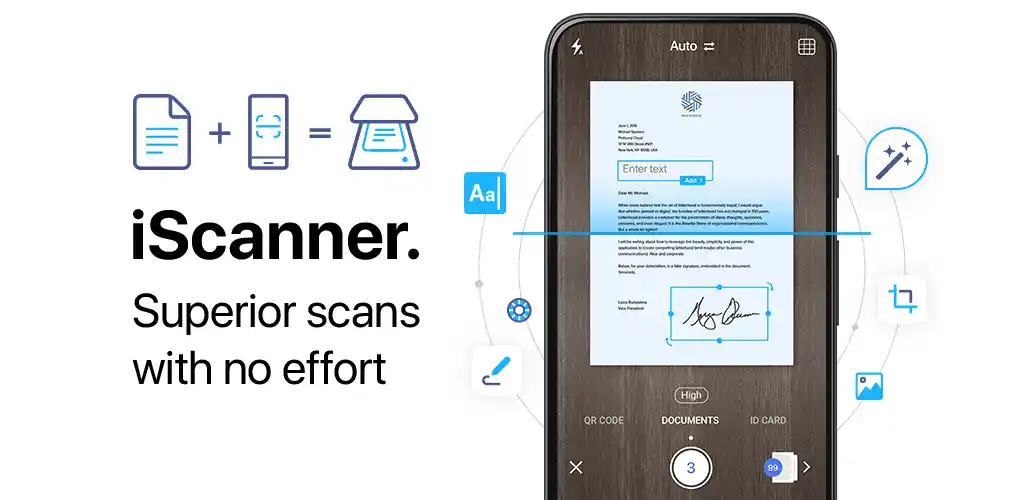 Ad-free and secure!
DOCUMENT SCANNER
Our smart scanner app is a must-have for those who work remotely or on the go and anyone starting their business or studying. Digitize the files you need – contracts, tax forms, tickets, receipts, handwritten notes, assignments – and export them as the most common file formats with our PDF scanner!
CLOUD STORAGE
– Sync items and folders in real time
– Transfer and view files from any platform or web browser
– Use one subscription for all your devices
TOOLS WITH ARTIFICIAL INTELLIGENCE
– Get document borders detected and adjusted automatically with our powerful scanner
– Recognize text in 20+ languages
FULL PDF EDITOR & APP FILE MANAGER
– Edit scans using color correction
– Sign the scans manually or add a signature from an image
– Cover or blur text you don't need to be seen and mark up documents
– Add text over the forms or autofill documents using custom templates
– Use the scanner file manager with folders and drag & drop
– Protect confidential scans by locking folders and files with PIN
– Merge several documents into one or split a file by pages
– Add watermarks right in the scanner app
VARIOUS SCANNER APP MODES
• DOCUMENTS – scan multipage PDF documents on the go
• ID-CARD & PASSPORT – create scans of personal documents
• AREA – measure object length and calculate its area
• MATH – solve math problems and complex equations
• COUNT – count similar objects automatically
• QR CODE – read any QR code with the scanner camera
iScanner: Making your documents better than they are!
http://bpmob.com/scannerfree/privacy
http://bpmob.com/scannerfree/terms
We'd love to hear from you! Please help us make our PDF scanner app even better. You can also get in touch with us at http://iscannerapp.com/scanner/support.
What's new
Thanks for staying with us! In this version:
— Count mode categories—count coins and boxes in a flash
ー Safe folder—hide your sensitive data and set a decoy folder to protect your files
ー Remote logout and formatting—sign out and delete the stored files in case of emergency
We love getting feedback from all of you! Please leave your reviews so we can keep making the app even better.
Images