Now with Life Reminders, you easily create a reminder for your daily tasks, and forget about them. When time comes, Life Reminders will remind you.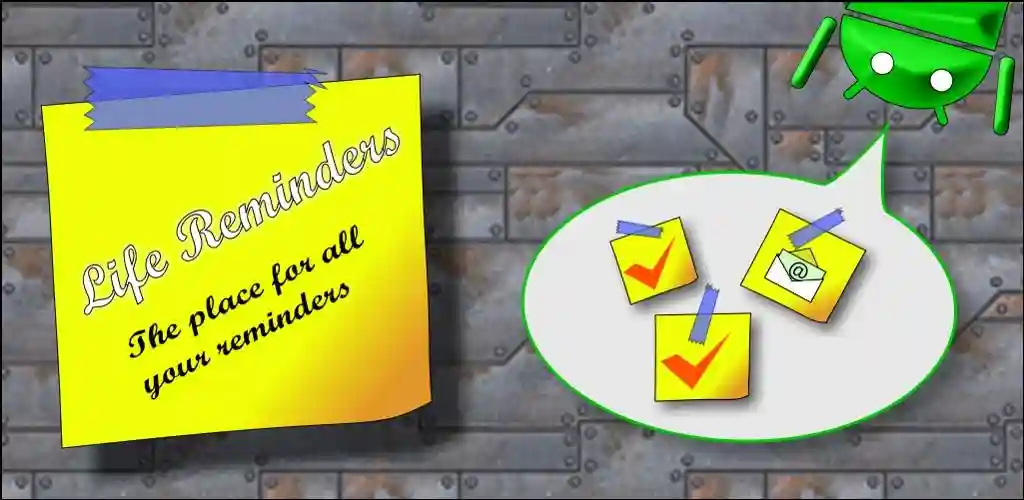 Never forget anything anymore with Life Reminders.
Small oversights can have big consequences…
Something to do at a given time ?
Medicine to take at a certain hour ?
An sms to send to wish a happy birthday ?
An Email to send next week ?
An important call to make at a precise moment ?
An important date to remember ?
Available in French, Spanish, Danish, Dutch, Russian, German and of course English
With Life Reminders, you can quickly set up all kind of reminders:
– Calls: you set the contact informations, you set the date/time (more options to come…), and you forget about it. When it's time it shows a notification. You just have to click on the call button… or put the reminder to sleep for a defined number of minutes.
– Tasks: you enter the task description, you set the date/time (more options to come…) and when time comes…It reminds you…
– SMS/EMAIL: you enter the message text, you set the contact information (optionally you can send set it up to go without confirmation), you set the time (more options to come…), and guess what, when time comes… It is sent (or a notification is shown for you to confirm).
You would like to see something added, send support a mail, we analyze and see what can be done we pay great attention to users' feedback, and will do our best to improve the application.
If you have any problem with it send a mail describing your issue to the support team, we will fix it as fast as possible.
We will be glad to receive constructive mails about your use of it or the issues you've got.
Now, MyBackup Integration Support to backup database and settings.
★★★★★★★★★★★★★★★★★★★★
IMPORTANT:
* Remember that WE CAN'T ANSWER COMMENTS. If you have a problem or want to suggest a feature, please send us an email.
* You must exclude Life Reminders from your task killer if you have one installed
* Life reminders MUST NOT be installed on the SD card
★★★★★★★★★★★★★★★★★★★★
You like Life Reminders and would appreciate to see it in your language? This is also one of our goals, so if you can help, contact us by email (the email address is in the about box).
You can help by getting the donate version. When getting donate version, you also get the Widget unlocked, remove the ads and have weekday selection.
Some people are suspicious about permissions used in apps. So here is an explanation of the ones used:
– android.permission.INTERNET
Internet access is for crash report and flurry.
– android.permission.WRITE_EXTERNAL_STORAGE"
Backing up the database to the SD
– android.permission.READ_CONTACTS
Get contact information for call and sms reminders
– android.permission.CALL_PHONE
To start a call for call reminders
– android.permission.SEND_SMS
– android.permission.WRITE_SMS
– android.permission.READ_SMS
Send sms and backup up in system logs
– android.permission.CAMERA
Add pictures to reminder
-android.permission.GET_ACCOUNTS
Used for sync feature
Keywords: reminder, reminders, call reminder, sms reminder, task reminder, birthday, medecin, things of life, don't forget, remember, notification, reminder, alarm, alert, date, event, birthday, anniversary, anniversaries, wish list, gift list, happy birthday, birthday wishes, call, text, SMS, message, post, calendar, track, tracker, view, viewer, friend, friends, family, grandchildren, clients, gift, automate, automatic, popular, best, simple, easy, upcoming, upcoming birthdays, chronological, next, soon, sort, Email, automatic email, scheduled email, groups sms, sms sheduler, after astrid