Developer
Peel Universal inc.
Updated
December 13, 2020
Size
9.5M
Version
10.7.7.0
Requirements
4.1 and up
Get it on
Description
Peel Universal Smart TV Remote Control MOD APK is always good and easy to use a single universal remote control device to control all your electronic equipment tired using different different remote control for each electronic device. try universal Peel Smart Remote to use all remote control from your android mobile. no need to use different different remote control just use a single app from your phone to handle all your device from one remote control.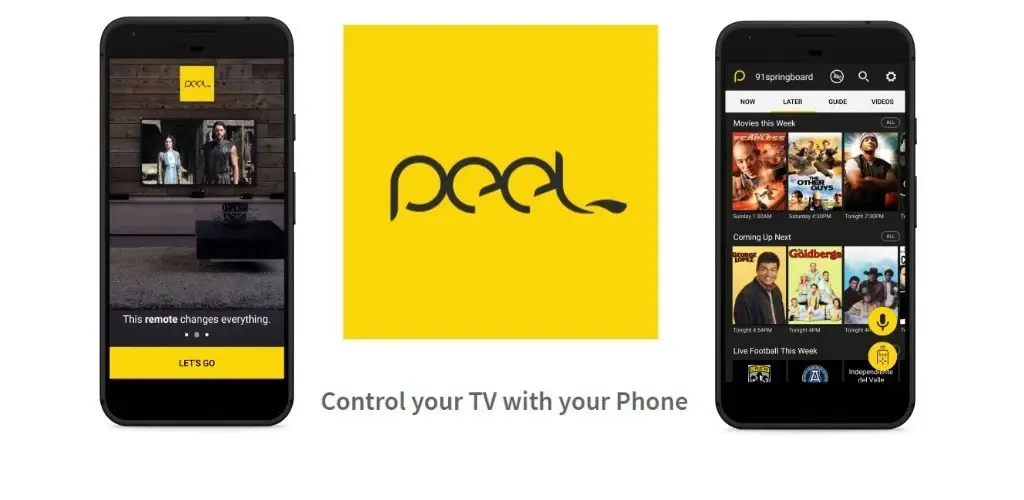 This free, powerful and efficient peel universal remote control app will make your life easy. To use the remote control,
you must have your mobile and tablet on the same WI-FI network as your TV and you have to accept the message that appears on your TV.
Try this amazing TV Remote For All TV to convert your android device into a peel universal TV remote control. This app TV Remote For All TV is really easy to configure for your television and is really easy-to-use.
Our app supports most TV universal TV remote brands and models. Whether you have a Samsung TV,Sony TV, Vizio TV or any other branded TV, Easily convert your Android phone or tablet into a universal remote
control for your TV.
Peel Universal-Remote control app is best app for the use remote control in your device you can use this app to handle TV ,ac,set top box,camera,smart box,A/V reciever
this app will be unable to use all key function of remote in single app. and can be use this remote control app for handle your TV and remote control from one app
Important
1.This app needs your phone to have Infrared sensor with infrared you can use this app only
2.If You Are Not sure what this means? you can try downloading the app.
Features
1.Use All type of remote control in single app.
2.create remote control just one time and set the name of remote control and use it on one touch
3.supported most of popular brand of TV ,Ac
4.wide range of devices. & Easy To Use & Free To Use
5.Channel digits buttons.
6.smart TV Peel Smart Remote offline.
7.Peel Smart Remote brand.
8.Remote control TV on a mobile app for Android.
9.Volume up-down control and channel up-down control
How To Use
1.First Install the app and open the app. you will see the first screen to select the Device like TV ,Ac,Set top Box,camera,select the device category
2.After That you will see the the list of brand. select your brand of device
3.after selecting the bran you see the list of available remote control. which is suitable to your device
4.you have to choose your remote for your electronic device for that you have to check manually which remote will suit to your device
5.in list click the the button in front of your device if your device respond then this is the remote for your device pair it to device.
6. now your remote control is ready to use
Images