Pure Web provides the easiest way to block all porn content and adult websites. The fastest and the simplest porn blocking app, that you can use right now!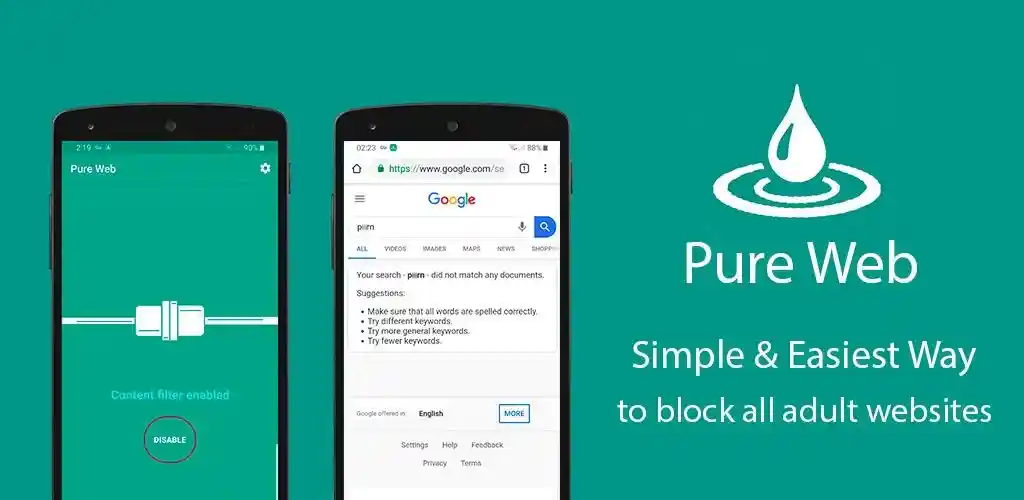 If you're looking for a proper solution to block pornography and all of the adult content – You've reached the right place.
Important: Some internet service providers not allow to use web filters. If you are facing this issue, contact your ISP to find a solution.
Pure Web is a DNS-based filter that prevents adult content from being loaded.
DNS filtering – is a technique of blocking access to certain websites, webpages, or IP addresses. When you attempt to access a website, a DNS query will be performed. Your DNS server will look up the IP address of the domain/webpage, which will allow a connection to be made between the browser and the server where the website is hosted. With DNS filtering in place, rather than the DNS server returning the IP address if the website exists, the request will be subjected to certain controls. This process then provides an opportunity for using DNS as a very basic, low-latency (fast!), and low-bandwidth filter to protect your family from adult websites. The filter protects your network by only providing lookup requests with a valid IP address for safe websites, but returns a local IP address to deliver a block page for forbidden sites.
We are offering 7-Day FREE Trial for new subscribers to evaluate our services, then only $2/month!
Everything you need to protect your family:
Password protection
Set the password after the installation and you will be able to control the access to the settings and the capabilities of your app.
Black / White list
You can block or allow access to any website that you like!
Blocking history
Pure Web will record what websites are blocked and you can easily check the blocking history.
Uninstall Protection
To protect the app from unauthorized removal by the child, you can use "Uninstall protection" option.
Using our easy-to-use app you can block access to all porn sites and protect your child from adult content on the Internet that your child should not see. We are very proud of our expansion and are very happy that we can help you protect your children, adolescents and adults from inappropriate content on the Internet. We are sure that you will find our product the easiest and most effective app for filtering and blocking porn content.
This App uses the Accessibility services, the Device Administrator Permission and the System Alert Window Permission.