File Management app RS File Manager Pro – RS File Explorer is the ultimate File Manager for Android. Free, Safe, Simple, Manage your files efficiently and easily with RS File Manager. RS File Manager – RS File Explorer is an easy and powerful file explorer for Android devices. It's free, fast, and full-featured.
Download Also: USB Media Explorer [Paid]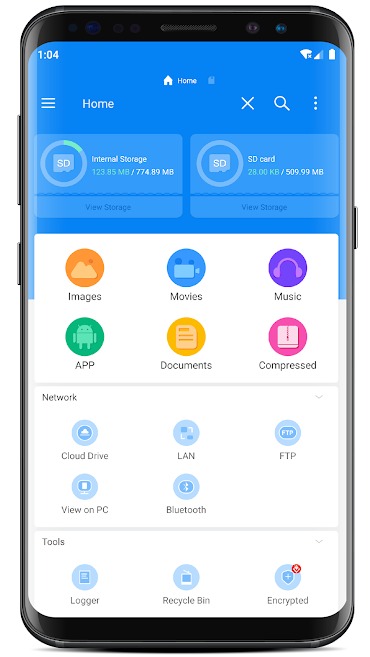 Manage your files like you do on your desktop or laptop using Multiple Select, Cut, Copy, Paste, Move, Create, Delete, Rename, Search, Share, Send, Hide, zip, unzip, and Bookmark, etc.
With RS File Manager – RS File Explorer, you can easily manage your files and folders on your device and cloud storage. Also, you can find how many files and apps you have on your device immediately after opening RS File Manager.
More Features:
● Disk Analysis: analyze your space usage, large files, file categories, recent files, folder size
● Cloud Drive access: Google Drive™, Dropbox, OneDrive
● Manage your network storage: FTP, FTPS, SFTP, WebDAV
● Local area network: SMB 2.0, NAS, NFS, CIFS, FTP, HTTP
● Efficient file search: Search for your file immediately
● App manager
● Root Explorer
● Compress and Decompress: Zip, Rar, 7zip
● USB OTG
● Access files from PC
● Favorite and bookmark folders or files
● Thumbnails for images and video as well as for various file types
● View APK files as ZIP
● Share – send files by Bluetooth, email, or whatever the device supports
● Easily work with zipping (as if it was a normal folder)
● File Encryption : 128-bit encryption
With RS File Manager – RS File Explorer, you have 100% control over your file system and everything can be found easily organized.
Languages supported by the RS file explorer include English( en ), Arabic ( ar ), German ( de ), Spanish ( es ), French ( fr ), Italian ( it ), Portuguese ( pt ), Russian ( RU ), etc.